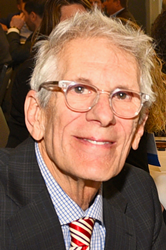 Peekskill's a happening place and my goal is to work with all the existing stakeholders that have made Peekskill's recent dramatic progress possible – while paving the way for an even stronger, future resilient and sustainable economic community in which the whole population benefits.
PEEKSKILL, N.Y. (PRWEB) April 09, 2020
The City of Peekskill announces the appointment of Matthew D. Rudikoff to lead Peekskill's Office of Economic Development within the City Planning Department. Rudikoff was also named Executive Director of the Peekskill Industrial Development Agency (PIDA). The mission of the dual position is to leverage public and private resources to strengthen, stabilize and expand the City's economy: businesses, nonprofit organizations and the workforce.
"Peekskill's a happening place and my goal is to work with all the existing stakeholders that have made Peekskill's recent dramatic progress possible – while paving the way for an even stronger, future resilient and sustainable economic community in which the whole population benefits," Rudikoff stated.
Prior to the City of Peekskill, Matthew Rudikoff spent more than two decades as president of MDRA, Inc., a highly regarded regional economic development, planning and environmental consulting firm working for a diverse group of public, private and nonprofit clients. He also served as Development Director for the City of Poughkeepsie as well as Federal / State Liaison Officer for the New York City Model Cities administration.
"Matthew is going to be a great asset to our city," said Peekskill Mayor Andre Rainey. "In such a short time, I can already sense he's very energetic, motivated and looking for ways to develop new strategies to support our business community. He certainly has excellent customer service skills, a high level of organization, great communication, and is a proactive thinker. I look forward to the years to come working with him."
The two most immediate goals for Rudikoff: one, protect and advance Peekskill's economy and citizens to weather the COVID19 contagion and two, for the 2020 Census to document Peekskill's phenomenal growth as a diverse and sustainable community – achieving a City population of over 25,000.
"I urge everyone to follow COVID social distancing and other directives to minimize the virus' spread and damage to citizens, families and our economy. On a far more positive note, please respond to the 2020 Census – either online, by phone, or by mail. An accurate count is crucial for securing federal funding for infrastructure, parks and other important programs. Be active – respond to the Census and help spread the word – not spread the virus!"
"The Peekskill Industrial Development Agency is pleased to welcome Matthew as our new Executive Director," said Deborah Post, Chairperson of PIDA. "He has already proven to be a great asset as we work to utilize the Agency's economic development tools to aid Peekskill through the Coronavirus pandemic and future growth."
Rudikoff was the founding chairman of the Dutchess County Hospitality Industry Council, staff director of the Poughkeepsie Partnership and chairman of its BID Formation Committee, member of the Beacon Economic Development Task Force, Conference Committee Co-Chairman, Mid-Hudson Patterns for Progress, staff director of the Poughkeepsie Overall Economic Development Plan Committee and frequent presenter and panelist at many planning and economic development conferences. Rudikoff is currently a member of the Ulster County Planning Board.
"The Peekskill Business Improvement District will continue working with Matthew as we all come together to focus on the City of Peekskill's fiscal recovery once this health and economic emergency subsides," said Brian Fassett, President of the Peekskill BID. "With our stronger and renewed sense of community, we can help Peekskill recover through smart, sustainable development while still preserving our existing businesses and our wealth of environmental, historical and artistic assets."
"Having an Economic Development Specialist in place is so important as Peekskill navigates these uncharted waters," said Deb Milone, President of the Hudson Valley Gateway Chamber of Commerce. "We are working together through this crisis and, as recovery takes place, we look forward to bringing new business and development to Peekskill."
The aim of the City of Peekskill Economic Development Office is to help consolidate and stabilize the City's recent growth, noted Rudikoff. "This means new partnerships, completing pending projects, connecting the downtown and waterfront, and creating 'new-economy' employment opportunities weaving-in arts, media and tech. We're committed to fostering a local economy 'new-venture' entrepreneurial atmosphere – growing Peekskill's destination power, business diversity and market strengths."
Rudikoff continued, "The next generation of Peekskill's new projects will build on that solid base – being even more sustainable, job generating and successful; linking government services and strengthening the local economy for the benefit of everyone in Peekskill – its businesses, agencies, visitors and future residents."
Rudikoff holds a Bachelor of Science in Economics from SUNY New Paltz and a Masters in City and Regional Planning from Rutgers University.
The City of Peekskill is located at 840 Main Street in Peekskill, N.Y., and can be reached at 914-737-3400 or by visiting http://www.cityofpeekskill.com.
About the City of Peekskill
The City of Peekskill is a thriving, historic community located on the banks of the Hudson River. Just under one hour north of New York City, Peekskill is culturally and economically vibrant with abundant natural resources due to its location on the river and at the gateway to the Hudson Highlands. The waterfront, with over three miles of continuous parkland, is a regional destination with a variety of active and passive recreation, as well as breathtaking views of the Hudson River. While Peekskill's waterfront parks, walking trails and dog park remain open during the coronavirus pandemic, guidelines for social distancing are enforced. The downtown area features an array of dining establishments currently offering take out, curbside pickup or delivery. The City recently passed a local ordinance allowing for free 15 minute parking in front of restaurants exclusively for the pick up of food and beverages. Home to a growing arts community, Peekskill is also a hub for new-generation technology and multimedia. For more information, visit http://www.cityofpeekskill.com.