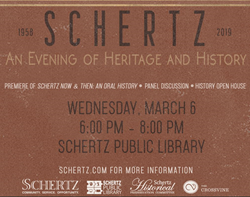 SCHERTZ, Texas (PRWEB) February 06, 2019
Today, the City of Schertz and The Crossvine announce the completion of "Schertz Now and Then: An Oral History," a 25-minute documentary chronicling the rich history and growth of Schertz from its founding to current day. An unveiling event and celebration of the story of Schertz is planned for Wednesday, March 6th, 2019 from 6-8 p.m. at the Schertz Public Library. The event is free and open to the public and will feature the first public showing of the full documentary, a moderated panel with interviewees and Schertz history buffs, light bites, as well as informational tables and booths from area history groups set up throughout the library.
"Schertz Now and Then: An Oral History" features interviews with former city officials, area historians and residents of Schertz whose families have lived in the area for generations, who share stories about what it was like to grow up in Schertz all through the 1900s. The original impetus for the project came from Chris Price, developer of The Crossvine, a mixed-use, master-planned community in southern Schertz, who was passionate about learning more about and preserving the rich history of the city. Through conversations with area historians and lifelong residents of Schertz, the project grew into its current form – a full-fledged documentary about the city with interviews and stories told by those who know Schertz best.
"This oral history video provides an important record of how the City has evolved to become a celebrated and prosperous community," said Dean Weirtz, Chairman of the Schertz Historical Preservation Committee. "It serves to provide a lasting voice of historical importance for educating the many newcomers and visitors to our community. It has been a distinct pleasure to be able to participate in the development of this project. Our community offers its gratitude to those who produced this outstanding media presentation."
Interviewees include:

Lewis Borgfeld, Schertz Bank and Trust
Robert Bueker, Former Mayor, 1973-1980
Lane Bourgeois, Historian
Michael Dahle, Chairman of the Planning & Zoning Commission
Gail Hyatt, Former City Councilmember and Lifelong Resident
John Kessel, Former City Manager, 2011-2018
Dr. Mark Penshorn, Lifelong Resident
Dean Weirtz, Chairman of the Schertz Historical Preservation Committee
The documentary is divided into six "episodes," each addressing a different aspect of Schertz's rich history and growth. Topics range from Schertz's founding by the Schertz family in the 1800s and its agricultural and German roots, to personal stories from life-long residents about what it was like to grow up in Schertz, to the impact of Randolph Air Force Base and the city's current growth. The project began in earnest in 2016, with interviews and b-roll captured by Austin-based cinematographer Rocky Conly over the following two years.
"This has been such an interesting and rewarding project, and one that we are thrilled to share with everyone in Schertz," said Chris Price, President of Schertz 1518, and Executive Producer of the documentary. "Schertz is truly a fantastic place for people to live, work and play in, and this documentary highlights the history, values and passion here in Schertz."
For more information about "Schertz Now and Then: An Oral History" and the official unveiling event at the Schertz Public Library on Wednesday, March 6th, please visit https://www.facebook.com/events/288329075186165/.
###
ABOUT THE CROSSVINE
Located in Schertz, Texas, just northeast of San Antonio, The Crossvine is a 540+ acre mixed-use, master-planned community. The Crossvine is envisioned as a vibrant, diverse neighborhood appealing to people in various stages of life: professionals, young families, empty-nesters and retirees. Residential development at The Crossvine will include traditional single-family homes, garden homes, townhomes, multi-family clusters, and independent and assisted living facilities, alongside commercial areas comprised of neighborhood services, retail, municipal, and potential medical uses. The project's developer has worked closely with the City of Schertz to create a community that fits in with the area's rural setting while responding to its need for responsible growth.