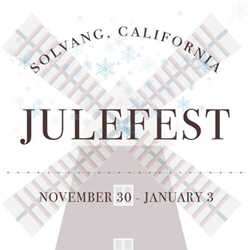 We can't wait to share with our locals and visitors, all of the magic and history that this town holds. It's always festive here, but even more so during the holiday season, and Solvang Julefest events are an ideal way to explore all that Solvang has to offer – both the old, and the new
SOLVANG, Calif. (PRWEB) October 22, 2019
The City of Solvang has officially announced preliminary plans and dates for this year's celebration of Solvang Julefest (http://www.SolvangJulefest.org; pronounced 'Yule-Fest'), the Santa Ynez Valley wine country town's annual celebration of all things "holidays". The 2019 holiday season event, which will begin on Saturday, November 30, 2019 and run through Friday, January 3, 2020, will entail multiple holiday happenings all located within the walkable California Central Coast destination of Solvang, most recently named by Country Living as one of the USA's "Best Christmas Towns".
"We can't wait to share with our locals and visitors, all of the magic and history that this town holds. It's always festive here, but even more so during the holiday season, and the Julefest events are an ideal way to explore all that Solvang has to offer – both the old, and the new," said Solvang Mayor Ryan Toussaint.
The 2019 edition of Solvang Julefest will once again feature the event's crowd-pleasing components, like the interactive Nisse Adventure experience, evening Candlelight Tours – with a VIP-level option – and free visits with Santa in Solvang Park, as well as the annual Tree Lighting event, Skål Wine and Stein Stroll, and Julefest Parade, all with deliberate enhancements to heighten holiday spirits.
"We are honored that the Solvang City Council has decided to place their faith in us to steward such a joyous event forward through 2019. We are working diligently to ensure the Danish culture, heritage, and traditions are maintained and cultivated, while elevating Julefest to new and exciting heights," commented Scott Shuemake, President of IDK Events, producers of the 2019 Solvang Julefest.
New to this year's Solvang Julefest is the celebration of Saint Lucia Day on December 13; a Christmas Drone Show on December 21, the only Southern California holiday drone show of its kind; a daytime countdown to the Danish New Year with a simulcast of the party happening in Copenhagen's Tivoli Gardens, on December 31; and additions to Santa visits in Solvang Park. Accompanying the traditionally-free photos with Santa, will be a photo opportunity in the Solvang Park Gazebo: a photographic setting for capturing "holiday moments". Also in Solvang Park, a new play area in the form of "Santa's Lade" (Santa's Barn), a children's winter wonderland featuring snow and live animals.
Shuemake continued, "We're taking this very festive opportunity to re-emphasize Solvang Julefest as a holiday event. We're keeping the aspects that everyone looks forward to, just sprinkling in some added seasonal charm."
Solvang, known for its Danish-American roots, architecture and design details, pastries, bakeries and plentiful wine tasting rooms, also boasts dozens upon dozens of unique boutiques, restaurants and gourmet food purveyors. Carefully-curated indie book stores, high-end stationers, children's shops and spice merchants sit alongside foodie havens offering up everything from Persian cuisine to ramen noodles, Greek bites to Italian standbys, iconic Danish dishes to elevated new-Californian fare and Michelin-honored tasting menus, to heritage grain sourdough loaves or Spanish cheeses, to small-batch, locally-roasted coffee, to speakeasy tiki cocktails and craft beer dens, forming an indulgent holiday shopping – and playing – scene.
Dog-friendly and ideal for kids, Solvang Julefest promotes family fun and adventure through traditional holiday-favorite activities, with the addition of more-adult, wine country entertainment. Bolstering this year's late-night appeal, are plans to keep the holiday gift shopping opportunities flowing into the evening with extended hours at Solvang merchants; sips and nibbles in some of the town's most popular retail spots for added shopping and strolling cheer; and live music and entertainment in select bars and wine tasting venues.
Shuemake concluded, "We're in the business of making memories through experiences. We take that job very seriously, and Solvang Julefest will be no different."
The preliminary schedule of this year's Solvang Julefest events is listed here; further updates to the 2019 Julefest schedule and event announcements will be made over the course of the next month.
The 2019 Solvang Julefest is produced by the City of Solvang (http://www.CityofSolvang.com) in partnership with Northern California-based IDK Events (http://www.idkevents.com). All Solvang Julefest events are open to the public with either free or paid admission. More information is available at http://www.SolvangJulefest.org, with direct links to ticketing for the paid portions of the holiday happenings. Event updates will also be posted to the Solvang Julefest Instagram and Facebook accounts: @SolvangJulefest and facebook.com/solvangjulefestival.
Questions, media requests for interviews and/or photos, may be directed to Anna Ferguson-Sparks, Stiletto Marketing, at 1.877.327.2656 or info [at] stilettomarketing [dot] com.
About the City of Solvang:
Known as the "Danish Capital of America", the City of Solvang is located in the Santa Ynez Valley in Santa Barbara County, California. Founded by a group of Danish-Americans in 1911 and later incorporated in 1985, Solvang is home to a number of bakeries, restaurants, and merchants offering a taste of Denmark in Southern California. Sleek, Scandinavian design meets Old World charm in Solvang's numerous interior courtyards, cozy communal spaces and open-air venues, where vacation itineraries for all, unfold. The walkable town offers plentiful free parking options for locals and day-trippers, and nearly 20 lodging options for staycation-ers, weekenders and mid-week travelers, at all vacation budget levels. For more information, including lists of events and things to do, where to eat and drink, and places to stay, visit http://www.VisitSYV.com/discover-syv/Solvang.
About IDK Events:
IDK Events is a California-based event production company with a penchant for creating memorable, seamless experiences on every scale. IDK Events was founded by President Scott Shuemake and Vice President of Production Jacob Dornan. Together with their team, Scott and Jacob focus their skills on four key areas: Festival Production, Parade Production, Registration for Exhibitors and Parade Contingents, and Neighborhood-Based Events. While known for larger-than-life occasions like The Annual San Francisco Pride Parade, Union Street Fair, and Formula-E events, the company executes smaller-scale operations as well. Wine walks, street fairs, and more community-based gatherings have all received the IDK treatment. Powered by more than a decade of experience, thousands of industry contacts, unrivaled vendor negotiation skills, and the innovative vision to create a lasting impression, as an LGBT-certified owned business, IDK Events came from humble beginnings with a now-global reach.