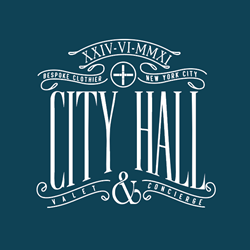 Fully customizable for the curves of a woman
NEW YORK (PRWEB) May 14, 2020
Their debut collection from CityHall Bespoke, is named "The Executive Line" and features four multi-season suits that are edgy yet reserved, with a minimalist, monochromatic aesthetic. The suits are extremely versatile and are wearable to the owner's desire. When styled appropriately, they can go from simple, after-work casual clothing to elegant and nightlife ready. Each piece is handmade to order and fully customizable for the curves of a woman.
Create-a-Cocktail is selling cocktail kits to anyone who purchases a ticket to attend the virtual launch party. Tickets are available.
virtualopenbar.eventbrite.com. As well, the virtual launch party will be sponsored by Henrietta Hudson, New York City's oldest lesbian bar founded in 1991 by Lisa Cannastraci. Due to small businesses being forced to shut down, Henrietta Hudson started a GoFundMe campaign to help survive the pandemic. Donations can be made at https://www.gofundme.com/f/henriettahudson1 for those interested!
About LES Downtown: Founded in June 2012, this company is the first of its kind, lesbian centered brand that uses the latest designs and highest quality materials to create fashion-forward clothing for every type of woman. Lisa Rosa, Founder of LES Downtown, formed this brand to create a movement that encourages and celebrates diversity and self-expression, while mending the segregation between LGBTQ and straight communities.
Checkout The Executive Line at https://www.lescityhall.com/