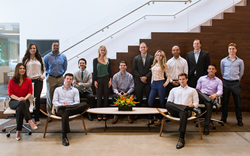 Today in lending it is rare for companies to invest in tomorrow's professionals. Very few companies invest in their employees the way CIVIC does.
Redondo Beach, CA (PRWEB) August 21, 2017
Civic Financial Services is celebrating the commencement of its inaugural Top Gun Program, an elite training program unprecedented in the lending industry.
When CIVIC began its search for top talent across the nation to participate in Top Gun, the coveted program received 1,186 applications, of which over 100 candidates were interviewed and only 14 were selected. The program entailed a six-week structured course, followed by 6-8 weeks of one-on-one mentorship with senior level Account Executives. After graduating from the program, the Top Gunners would then move to a full time Account Executive position with annual earning potential well over $100,000.
"Today in lending it is rare for companies to invest in tomorrow's professionals," said William J. Tessar, visionary lending leader and CEO of CIVIC. "Very few companies invest in their employees the way CIVIC does. Our investment in our team's current and future growth is a cornerstone of our firm."
The chosen candidates each brought forth varying experiences to the program, ranging from attending community colleges to some of the most prestigious schools in the country. CIVIC invested heavily in the Top Gun candidates with resources, paid training in a team-based and competitive environment, and one-on-one time during which every facet of mortgage lending - and every facet of CIVIC - was taught. The training environment included a customized space with laptops, lockers, refrigerator and TV – contributing to a team-oriented yet individual performance focused class.
CIVIC's parent company, Wedgewood, Inc., has 30 years of experience in real estate investing. "The relationship with Wedgewood gives Top Gun members access to lessons and information they would be unable to receive at other private lenders," said Sophie Kim, Director of Learning and Development. "In turn, those lessons and experiences build a better versed Account Executive to best serve the investor community with CIVIC products and services."
This investment in top talent is aligned with the goal of creating highly skilled and exceedingly talented Account Executives to provide superlative customer service to all current and future clients of CIVIC. In turn, CIVIC provides a life-changing opportunity to Top Gun candidates to earn a very rewarding and life-long career in lending and real estate.
In speaking to the caliber of the 14 final candidates, Tessar states "these are some of the most talented young adults I have had the pleasure of working with."
For more information on CIVIC private lending, visit http://www.CIVICfs.com or call 877-472-4842.
CIVIC FINANCIAL SERVICES is a private money lender, specializing in the financing of non-owner occupied investment properties. CIVIC was created by its parent companies, Wedgewood and HMC Assets LLC, to serve investors who don't fit traditional lending criteria. Wedgewood and HMC, two of the most respected names in residential real estate, provide CIVIC with unparalleled valuation expertise in the real estate vertical as well as access to low-cost capital. With these resources, CIVIC is able to keep all operations in-house so loans are managed more closely, quickly, and efficiently.