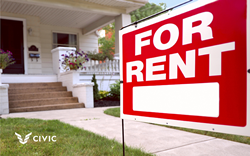 With our product line-up, now including rental, CIVIC will continue to deliver speed, leverage, and consistency.
REDONDO BEACH, Calif. (PRWEB) June 25, 2019
Civic Financial Services ("CIVIC") announced the release of its new Rental Program, designed for real estate investors who are focused on aggregating rental properties. The program includes 5/1, 7/1, and 10/1 interest-only ARM products for either a single asset or a portfolio of properties, allowing investors to further expand their businesses.
In an industry landscape that is constantly evolving, CIVIC understands the importance of diversification and has adapted its products to meet the financing needs for the real estate investment community. "My two favorite words are more and now, and we are delivering more options to our customers right now," says William J. Tessar, President of CIVIC.
CIVIC's expansion of its product offerings serves real estate investors with a rental strategy who may not meet the requirements of the conventional lending space and/or do not want to go through the painstaking process associated with a conventional loan. CIVIC provides an easy loan process with straightforward terms and less documentation requirements. The lender's Bridge Program, which has made CIVIC a preeminent player in the investor lending space, coupled with its Rental Program, delivers a one-two punch for the investor focused on acquiring distressed properties with the intent to hold and rent.
"Our entire product portfolio is designed with the primary focus on creating opportunity to enrich our customers," says Tessar. "In markets where valuations are softening, there may be less opportunity to ride the wave of appreciation, leading investors to adopt a longer-term strategy. With our product line-up, now including rental, CIVIC will continue to deliver speed, leverage, and consistency. We can help our clients grow their portfolios and reach their goals — whether they are looking to fix and flip quickly or rent their properties. We want to be the lending partner for our customers, in all of those scenarios."
Having just announced the release of its Correspondent Channel earlier this month, the private money lender is showing no signs of slowing down. To learn more about Civic Financial Services' Rental Program, please visit https://www.civicfs.com/rental/.
###
CIVIC FINANCIAL SERVICES is a private money lender, specializing in the financing of non-owner occupied investment properties. CIVIC was created by its parent companies, Wedgewood and HMC Assets LLC, to serve investors who don't fit traditional lending criteria. Wedgewood and HMC, two of the most respected names in residential real estate, provide CIVIC with unparalleled valuation expertise in the real estate vertical as well as access to low-cost capital. With these resources, CIVIC is able to keep all operations in-house so loans are managed more closely, quickly, and efficiently. For more information, please visit http://www.civicfs.com.