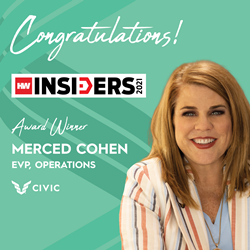 Merced has been steadfast and unwavering in her commitment to CIVIC's goals and team members, and we are so proud for her contributions to be recognized at this level.
REDONDO BEACH, Calif. (PRWEB) September 02, 2021
CIVIC Financial Services (CIVIC), a leading private money lender today announced that Merced Cohen, Executive Vice President of Operations, was recognized by industry trade publication HousingWire as a 2021 HousingWire Insider. Now in its sixth year, the annual award program recognizes and honors those in the mortgage and real estate space who are making critical contributions to the success of their companies.
"The winners of our Insiders award are an incredible group of doers that we're proud to recognize for their essential contributions to their companies and the larger mortgage and real estate ecosystem," HousingWire Editor and Chief Sarah Wheeler said. "Everyone on this year's list is a crucial part of their
company's success and we're honored to give them the spotlight."
Since joining CIVIC in 2017, Cohen has focused on creating processes to enhance loan product and service quality both operationally and strategically. Her application of the disciplines from conventional lending to the private money space helped the company achieve a 13% reduction in cost per loan while increasing volume by 5x over the last three years.
Cohen has been equally devoted to developing leaders, establishing CIVIC's Core Purpose and Values, and creating a safe space for employees to thrive. She has been recognized for achieving these objectives while concurrently navigating CIVIC through the crisis period of the pandemic and leading the due diligence of the company's acquisition as a wholly owned subsidiary by Pacific Western Bank.
"Merced's innovative approach to operations, combined with her ability to strategize and execute, has made her a vital component to the continued pace and scale of CIVIC's growth," said CIVIC President and CEO William J. Tessar. "The level of quality, sincerity, and discipline that Merced exudes makes her admired and well-respected, and the catalyst to creating a culture that continues to achieve new heights. Merced has been steadfast and unwavering in her commitment to CIVIC's goals and team members, and we are so proud for her contributions to be recognized at this level."
"Driving CIVIC's growth has been based on a foundation of trust and creating a safe environment where team members can shine," said Cohen. "The unity and perseverance of our team has brought us to new heights, so to be recognized for doing something that I am so passionate about is the ultimate reward. I am honored to receive this award, I am grateful to work with my own team of talented 'Insiders', and together, continue to move the needle in our industry."
About CIVIC Financial Services
CIVIC Financial Services, LLC is a leading institutional private money lender specializing in the financing of non-owner-occupied investment properties. CIVIC helps investors leverage opportunities to grow their real estate portfolios and build wealth through real estate. As a direct lender offering an array of residential and multifamily financing solutions for retail, wholesale and correspondent channels, CIVIC maintains all operations in-house so loans are managed closely, quickly, and efficiently. For more information, please visit http://www.civicfs.com.
About HousingWire
HousingWire is the most influential source of news and information for the U.S. mortgage and housing markets. Built on a foundation of independent and original journalism, HousingWire reaches over 60,000 newsletter subscribers daily and over 1.0 million unique visitors each month. Our audience of mortgage, real estate and fintech professionals rely on us to Move Markets Forward. Visit http://www.housingwire.com or http://www.solutions.housingwire.com to learn more.
###