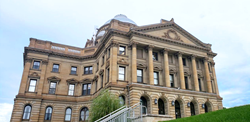 Once we got into the rhythm of the trial, it didn't feel all that different from the normal trial setting.
PITTSBURGH (PRWEB) September 21, 2020
Precise, Inc., a trusted provider of litigation support services, has recently participated in several civil jury trials throughout Pennsylvania as judges and courtroom administrators determine how to safely proceed in a brick and mortar setting during the coronavirus pandemic. Precise trial consultants provide devices and equipment to present evidence and act as "hot-seat" technicians to manage digital presentations and exhibits during a trial. These core services help fulfill social distancing requirements in courtrooms by lessening or eliminating the use of paper exhibits and allowing people to maintain safe distances from each other.
As more jury trials resume, Precise has been working with courtroom administrators in Lackawanna and Luzerne Counties to develop and install new technology plans for courtrooms that have been reconfigured to accommodate social distancing. Precise designed a system to digitally present witnesses and evidence through large LCD monitors throughout the courtroom so jurors may have a clear view when seated throughout the gallery. Signals from cameras and wireless microphones route through a "courtroom control station" where tipstaff can easily toggle between full-screen images or a picture-in-picture format.
Precise's trial consulting team has been implementing presentation technology strategies in courtrooms and meeting spaces across the country for two decades. That collective experience is helping them meet the logistical challenges presented by the pandemic. Eric Matlock, a trial consultant with Precise, recently provided support for a medical malpractice trial in Blair County, PA. "We had to adjust the typical courtroom set-up because of how far apart everyone was, which required us to use two projection screens with a synchronous presentation," Matlock explained. "The layout worked well, as everyone was able to see the exhibits clearly. There was an agreement made that no paper documents would be exchanged or distributed; we presented everything electronically. Audio is something we're evaluating and planning for as new seating arrangements sometimes challenge the systems in place in the courtroom. This is particularly true in larger courtrooms that tend to have a lot of echo."
"Once we got into the rhythm of the trial, it didn't feel all that different from the normal trial setting," said Joshua Baker, member of Metz Lewis Brodman Must O'Keefe LLC, who rented presentation equipment from Precise for his recent trial in Washington, PA. "The biggest change was not being able to move freely about the courtroom during questioning to maintain distancing. This made presentation technology absolutely critical to keep a flow and make sure the jury was able to follow along with exhibits being referenced."
Jury trials will resume in Allegheny County on October 19th, according to an order issued by Allegheny County Common Pleas President Judge Kim Berkeley Clark. Precise, headquartered in Pittsburgh, expects technology to remain a critical component in upcoming trials.
About Precise, Inc.
Founded by attorneys in 2000, Precise, Inc. helps law firms and corporate legal teams use technology to level the playing field regardless of the size of the firm or the scope of the litigation. Precise's subsidiary companies, Precise Advisory, LLC, Precise Discovery, LLC, and Precise Trial, LLC, offer a range of litigation technology support from eDiscovery services to modern courtroom presentations. To learn more, please visit precise-law.com or call 866-277-3247.