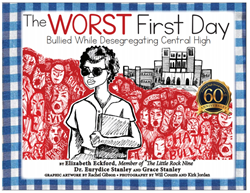 The Worst First Day is "…a compelling modern-day Odyssey set during the civil rights era." - Dr. Sybil Jordan Hampton
LITTLE ROCK, Ark. (PRWEB) October 17, 2018
Civil Rights Icon Elizabeth Eckford waited 60 years to tell her story, but it was worth the wait. Her first autobiography, The Worst First Day: Bullied While Desegregating Central High, received the 2018 Moonbeam Children's Multicultural Non-Fiction Gold Book Award.
The Moonbeam Children's Book Awards bring increased recognition to exemplary children's books and their creators, supporting childhood literacy and life-long reading. The Award recognizes and rewards the best of these books and bring them to the attention of parents, booksellers, librarians - and to children themselves. Of the 1,150 total entries, 157 medals were awarded.
Eckford, a member of the courageous Little Rock Nine, is thrilled to receive an award.
The Worst First Day, available on Amazon.com (bit.ly/worst1st), shares Eckford's autobiography and the background of school segregation. As a teen, she was thrust into international spotlight as the first member of the Little Rock Nine to arrive at Central High September 4, 1957. She was blocked from entering her new school by armed Arkansas National Guard soldiers and found herself engulfed by a mob of enraged segregationists.
Award winning photographer Will Counts captured an iconic image of Eckford stoically bearing the incensed rant of a desegregation protestor. The image made international headlines and showed the world the ugly face of racism, becoming one of the most iconic photographs of the twentieth century.
Bullying is a pain that Eckford knows too well from her days as a student at Central High in Little Rock, Arkansas. In her book, she provides an in-depth analysis of the Central High Crisis and encouragement for persons being bullied. She also emboldens bystanders to become allies, noting, "When you stand up for others, you can help them live another day."
October is significant for Eckford as her birth month and National Bullying Prevention Month. Eckford's primary motivation for telling her story was to encourage students being bullied, an issue estimated to impact more than 20% of students according to the National Center for Educational Statistics. As Eckford watched suicide rates rise due to bullying, she felt compelled to act by sharing her story of survival. "One goal of the book is to share the importance of resilience," said Eckford.
The Worst First Day commemorates the 60th anniversary of the desegregation of Central High. The book was co-authored by Eurydice Stanley and her 15-year-old daughter Grace, who is the same age Elizabeth was when she first attempted to desegregate Central High. Due to the bravery of the Little Rock Nine, school doors across the country have been opened to students like Grace. Although the Supreme Court ruled segregation unconstitutional in the Brown v. Board of Education decision of 1954, many states did not actually implement the ruling for years.
"Our family has benefitted from Elizabeth's mentorship and support for years," said Dr. Stanley. "She is a national treasure whose insights deserve an international platform." Stanley founded Lamp Press in 2015 after the death of her brother, Quewanncoii C. Stephens II, who loved history. Lamp Press seeks to "shine the light" on underrepresented stories that will inspire and encourage readers of all ages.
The unique approach of the multi-generational Worst First Day writing team resulted in an award-winning collaboration. The book is written in verse to retain the interest of young readers while simultaneously addressing concepts of importance to adults. The book forward is written by Dr. Sybil Hampton Jordan, member of the second group of African American students to attend Central High, who is "eternally grateful" to the Nine for their tenacity. She describes Eckford's story as "…a compelling modern-day Odyssey set during the civil rights era."
Eckford's memories are represented by the graphic artwork of Rachel Gibson because there are no images of the attacks the Nine endured. Additionally, the book includes compelling documentation from the era, artwork from Central High students and staff, intriguing essays and captivating images by photographers Will Counts and Kirk Jordan. The book provides readers a compelling, interesting history lesson.
The Moonbeam Book Awards described The Worst First Day as "…a tale of courage and perseverance," noting "Eckford endured all manner of abuse but remained determined through it all." As Eckford wrote in the book, "We swallowed our pride to ensure future students would have the chance we previously lacked."
Eckford finds healing and hope as she and the Stanley's share their unique message to schools, colleges and organizations across the country. Readers, particularly students, connect with Eckford's experiences at Central High in a way that she never imagined. "I used to cry when I told my story," she said. "I don't cry anymore." Eckford encourages those being bullied to report the attacks and follow her lead with the hashtag, #WalkPastHate.
Eckford is thrilled by the book's success, stating, "I am pleased in a way that I never thought imaginable. I hope this recognition brings the important message of The Worst First Day to the world."
Follow The Worst First Day authors at http://www.facebook.com/lamppressbooks. For more information,contact Lamp Press LLC at (703) 587-3560 or email info(at)dreurydice.com.