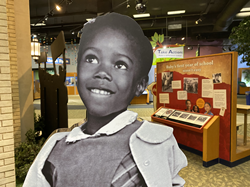 I honestly believe if we are ever going to get past our racial differences, it will happen through our kids. To have The Children's Museum recreating history, telling the truth and allowing kids an opportunity to experience history through my eyes, I feel my story continues to live on.
INDIANAPOLIS (PRWEB) November 13, 2020
The year Ruby Bridges was born (1954), the U.S. Supreme Court's landmark ruling in Brown v. Board of Education was supposed to end racial segregation in public schools. But, states did not enforce the law. It took six more years for a brave little Black girl to change the world and courageously walk into an all-white school in New Orleans, Louisiana.
The date was Nov. 14, 1960. Since it was New Orleans and she saw a mob of people, six-year-old Ruby Bridges thought they were throwing things at her for Mardi Gras. That couldn't be further from the truth. Angry protestors shouted threats at the little girl because they didn't want their children to attend school with a Black child.
For the next six months, federal marshals walked the little girl to and from school in an effort to protect her. Ruby had to spend the entire year alone with the only person who dared teach her, Barbara Henry.
That little girl, Ruby Bridges, grew into a strong woman who continues to make a powerful difference in the lives of hundreds of thousands of people and in particular, those who visit The Power of Children exhibit at The Children's Museum of Indianapolis, where they learn her story.
A grownup Ruby talked to a Zoom audience on the cusp of the 60th anniversary of her walk to William Frantz Elementary and shared how visiting the recreation of her classroom takes her back to that day. "It's a duplication of my classroom so it takes me back to 1960 and what it felt like. It's the little behind-the-scenes details that families take away that gives them a much clearer view of the story and how it unfolded. They relate to it because it's about kids and it's about not being accepted, and not being able to do anything about changing who you are," says Bridges.
Bridges says some of the same challenges still exist today, "I believe a major hurdle kids have today is actually trying to understand racism. You can't really understand it because it doesn't make any sense. I didn't understand why people would not want to go to school with me because of the color of my skin… I just wanted someone to play with. The message that I hope that kids and their families take away is that racism has no place in the minds and hearts of our children. That racism is a grownup disease and we should stop using our kids to spread it." Bridges has often shared that she wishes she could protect children who are bullied and worse due to bigotry, "I wish there were enough marshals to walk with every child as they face hatred and racism today, and to support and encourage them the way the federal marshals did for me."
Her walk into the school that day forever changed her life and helped shape a nation. It was commemorated by American painter Norman Rockwell in his work titled: "The Problem We All Live With." A print of that painting hangs in The Power of Children exhibit along with several other objects and artifacts to help tell the story of what happened to Ruby Bridges. "I believe history is sacred, none of us have right to change in anyway – pretty much we're using obsolete text books. History is not being taught the way it really happened. That's why the work you're doing at The Children's Museum is so important because you take the time to dig up the truth and expose it. I feel that when kids come to the museum, that's where they'll learn the truth," says Bridges.
Visitors can select questions from a monitor and hear Ruby Bridges answer them via video. The exhibit also features two other youth who faced tremendous hatred—Anne Frank who hid from the Nazis during WWII and Ryan White who was kicked out of school when it was discovered he had HIV/AIDS. In September 2021, the gallery will become the first permanent exhibit in the world to feature Malala Yousafzai, a young Pakistani activist for female education who became the youngest person ever to be awarded the Nobel Prize.
"It is our dream that the stories of these four extraordinary children in history can inspire children today to fight discrimination and intolerance and have a positive impact on the world," said Dr. Jeffrey H. Patchen, president and CEO, The Children's Museum of Indianapolis.
Bridges feels systemic inequality remains a glaring issue in urban schools. The mission of the Ruby Bridges Foundation is to foster racial healing and promote racial equity both locally and nationally. She also penned a book, This Is Your Time offering a powerful call to action during these difficult times of racial strife.