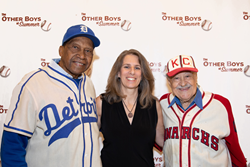 "The Other Boys of Summer" draws from our past to shine the spotlight on issues monopolizing today's headlines and offer hope.
CLEVELAND (PRWEB) July 05, 2019
The new documentary, "The Other Boys of Summer," which explores civil rights in America through the lives of the Negro Leagues baseball players, will be screened during MLB All-Star Week in Cleveland on July 6, 2019 at approximately 2:00 p.m.
The Cleveland debut is part of MLB's "The Bridge," a one-day activation on Saturday, July 6th, curated by the MLB Diversity & Inclusion Department during All-Star Week that will "bridge" baseball and culture. The goal is to connect baseball with pop culture areas such as fashion, art, music and technology to reach and attract diverse audiences by meeting them where they engage socially. The event serves to share baseball's rich history in an innovative and modern way by delivering creative content through the lens of diversity and inclusion.
The screening will include kids from Boys & Girls Clubs of Cleveland hosted by MLB and is open all. It will be followed by a conversation with the filmmaker, Emmy-nominated Director Lauren Meyer and Bob Kendrick, President of the Negro Leagues Baseball Museum.
The Bridge is free and open to the public at Red Space located at 2400 Superior Ave. in East Cleveland.
"The Other Boys of Summer is a powerful and moving film that captures the triumphant spirit of the Negro Leagues in winning fashion," said Bob Kendrick, President of the Negro Leagues Baseball Museum. "The film brings to light the challenges of playing baseball in a segregated America but also the joy that allowed these courageous athletes to overcome those challenges."
Narrated by Cicely Tyson, "The Other Boys of Summer" features never-before-seen interviews with the trailblazers who played alongside Jackie Robinson, and changed baseball and America forever. Through the lens of the National Pastime, the film draws from the past to shine the spotlight on issues that dominate today's headlines. The film premiered in NYC on the centennial of Jackie Robinson's birth (January 31st) and is on a grassroots barnstorming tour bringing people together, preserving the legacy of civil rights trailblazers and inspiring people. It's proven to be a valuable Diversity & Inclusion component for P&G, GE Aviation, The Robert Wood Johnson Foundation, MLB Clubs, schools and communities.
For more information about the documentary or to inquire about a screening, visit http://www.theotherboysofsummer.com.
About Tumbleweed Pictures, LLC
Launched in 2002, Tumbleweed Pictures is a boutique production company specializing in high quality, authentic, scripted and unscripted storytelling. Lauren Meyer is the Emmy Nominated Director behind the Tumbleweed banner. Her work has been seen on ABC, NBC, ESPN, Fox Sports, HGTV, Nickelodeon, PBS, A&E, Discovery among others as well as Netflix, Hulu and many more digital/streaming platforms. Learn more at: http://www.tumbleweedprod.com.
CONTACT:
Natalia Lopez
PRTumbleweed(at)gmail(dot)com
201-978-3189