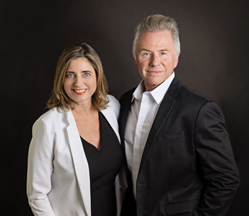 We align our strategies with our carefully crafted vision to deliver exemplary results
DANA POINT, Calif. (PRWEB) January 11, 2023
Civitas Realty today announced its partnership with Side, the only real estate technology company that exclusively partners with high-performing agents, teams, and independent brokerages to transform them into market-leading boutique brands and businesses. The alliance will ensure that Civitas Realty, a community-oriented and client-centered company, is powered by the industry's most advanced platform.
Civitas Realty was founded by Leilani Serrao-Baker and David Allen Baker, two creative, client-focused real estate professionals. Leilani has been an agent since 2012, landing in the top 11% nationwide for four consecutive years at her previous brokerage and featured in Real Producers magazine. David launched his career in 2020, joining his wife in generating $22.5 million in sales in 2021. They've also achieved remarkable sales track records, including selling 100% of their listings. Civitas Realty represents buyers and sellers in the Orange County market, specializing in Dana Point and south coastal Orange County.
"At Civitas Realty, we align our strategies with our carefully crafted vision to deliver exemplary results," Leilani said. "We have a strong track record, particularly with our sales, and we're confident we'll excel even further with Civitas," David added.
Partnering with Side will ensure Civitas Realty remains on the cutting edge of the evolving real estate market while continuing to deliver premium services to its clients. Side works behind the scenes, supporting Civitas Realty with a one-of-a-kind brokerage platform that includes proprietary technology, transaction management, branding and marketing services, public relations, legal support, lead generation, vendor management, infrastructure solutions, and more. Additionally, Civitas Realty will join an exclusive group of Side partners, tapping into an expansive network from coast to coast.
"Side's state-of-the-art marketing, technology, administrative, and legal services provide our clients with the local expertise and market insight needed to succeed," Leilani said.
About Civitas Realty
Civitas Realty doesn't just post a for-sale sign in the yard and consider it a job well done. Focusing on the client, not closings, the team delivers comprehensive service with razor-sharp certainty. Never one to cut corners, Civitas has an impressive track record, including selling 100% of its listings. For exemplary results and services that live up to its reputation, look no further than Civitas Realty. The firm represents buyers and sellers in Orange County, specializing in Dana Point and south coastal Orange County. For more information, visit http://www.civitasrealtyca.com.
About Side
Side is a behind-the-scenes brokerage platform that exclusively partners with top-performing agents, teams, and independent brokerages to create and grow their own boutique brands without the cost, time, or risk of operating a brokerage. Side's proprietary technology platform and premier support solutions empower its agent partners to be more productive, grow their business, and focus on serving their clients. Side is headquartered in San Francisco. For more information, visit http://www.side.com.