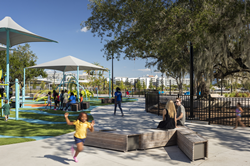 Civitas approaches its projects not as landscapes to be designed but as problems to be solved.
DENVER (PRWEB) January 23, 2020
Communities feel the impacts of architecture and design most in our urban landscapes, notes popular online news outlet Curbed in a recent series on practitioners who are "putting the public back in public space." Curbed selected Civitas as one of "five of the most progressive and promising people and studios" nationwide, focusing on the Denver-based landscape architecture and urban design studio's reputation for delving deep into the history and meaning of a place, investigating the details of how people live to ensure the realization of projects that become an integral, enduring – and beloved – part of the urban fabric.
Public projects are by definition complex, involving multiple stakeholders, often with differing visions and needs, as well as a gauntlet of political and regulatory issues. In its profile of Civitas, "The urban designers who bring the community in," Curbed recounts the firm's decision more than 20 years ago to take on larger, national high-profile projects, developing a profound expertise in addressing those vastly complicated issues along the way. "Civitas approaches its projects not as landscapes to be designed but as problems to be solved," Curbed writes. "It emphasizes functionality, with the aim that the project will still be popular with and useful to the public decades after its completion."
A signature example of Civitas' community engagement approach is Julian B. Lane Riverfront Park in Tampa, Florida. Winner of multiple awards, including the prestigious American Architecture Award in 2019, the park's ultimate success originated in the firm deeply listening, through numerous one-on-one and public meetings, to members of an African American neighborhood that had been devastated by "urban renewal" in the 1960s and viewed its park as a symbol of racial strife. The resulting transformation of the public space on the Hillsborough River provided an array of amenities for the community, from state-of-the-art play areas and sport-specific facilities to a community center. It also reconnected the neighborhood with the river via an award-winning river center by W Architecture and Landscape Architecture with city boat rentals and protected learn-to-paddle space.
The park has been embraced by residents, who "rallied around the idea of giving the black community access and recreation on the water for free," Civitas President and cofounder Mark Johnson tells Curbed. "That turned into a boat house, a community center, etc., etc. We really dug in."
That same under-the-surface community-driven approach applies to Civitas projects from helping the Czech Republic city of Brno negotiate new public-private development in the wake of communism to revitalizing and protecting Lake Minnetonka waterfront in small-town Wayzata, Minnesota; from making fresh connections for historic neighborhoods circling bustling downtown Denver via the 5280 Trail to navigating decades of fraught political history toward creating a vibrant pedestrian-friendly destination on the Port of San Diego's North Embarcadero.
And while Civitas' completed projects are without doubt beautiful, the philosophy remains unquestionably people-first. "We think to draw, we don't draw to think," Civitas Principal Scott Jordan tells Curbed.
Johnson agrees: "We don't design to get pictures in magazines. That's not our purpose. Our purpose is to build something that 50 years from now, people will still use it and love it."
About Civitas:
Founded in 1984 with the core purpose of "creating healthier cities" and celebrating its 35th anniversary, Denver-based Civitas, Inc. is an idea-based practice of urban designers, architects and landscape architects engaged in strategic planning for urban change and project design for built works. Recent honors include both the 2017 International Architecture Award and 2018 and 2019 American Architecture Awards from the Chicago Athenaeum/European Centre; the Canadian Institute of Planners "Great Public Space"; a 2017 IMCL Merit Award; and an Excellence on the Waterfront Award from the nonprofit Waterfront Center. A consultancy and a design studio, Civitas advises on a wide range of strategies for re-imagining urban life and places, working in U.S. cities coast to coast and around the world. For additional information visit civitasinc.com.