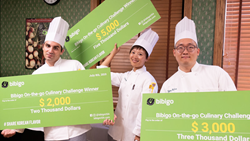 HYDE PARK, N.Y. (PRWEB) July 31, 2019
Bibigo, Korea's No.1 food brand with a growing presence in the United States, recently challenged student chefs at The Culinary Institute of America in New York to a Bibigo On- the-Go Challenge. Eight finalists were tasked with creating a Korean-inspired on-the-go dish incorporating Bibigo's products for an opportunity to win $10,000 in scholarships and participate in a New York City media event.
The panel of judges, including a CIA chef, New York-based food influencers, and a Bibigo representative, selected the three winning dishes based on taste, creative use of the product, presentation and production. CIA freshman Xinke Zhuang took first place and grand prize of a $5,000 scholarship with her "Go-Go Chicken Biscuit with Radish Salsa" dish. Second place and a $3,000 scholarship was awarded to fellow freshman Young Bo Lee, for his "Kimchi Rice Quesadilla with Seaweed Chips." Third place and a $2,000 scholarship went to another first-year student at the CIA, Michael Gottschau, for his "Dirty Water Buddha Dog" recipe.
"We were very excited to see our products in the hands of the next generation of great chefs and have them create innovative and one-of-a-kind recipes inspired in Korean flavors," said Eunkyung Son, Executive Vice President of Bibigo. "No other institution embodies culinary excellence more than The Culinary Institute of America and we were thrilled to see all finalists demonstrate their passion and creativity in their recipes using our products."
"This contest required our students to think outside the box and be innovative in their use of ingredients and flavors from around the world," said David Kamen, Assistant Director of Consulting Projects for The Culinary Institute of America. "The creativity that all eight of these young finalists expressed is testament that on-the- go food and fine food can be the same thing."
Bibigo products have become a fan-favorite as its innovative and delicious combinations provide families in the United States and around the world with an immersive dining experience. The collaboration with The Culinary Institute of America provided an opportunity for Bibigo to access some of the brightest young culinary minds and share the brand's offerings and authentic Korean flavors with consumers in the United States.
About CJ Group:
CheilJedang (CJ) was founded in Korea in 1953 specializing in food products. Since then, the company has grown into a global lifestyle brand with an innovative business portfolio built around four core sectors: Food & Food Service, Biotechnology, Retail & Logistics, and Entertainment & Media. CJ strives to inspire a new life of health, happiness, and convenience through its diverse array of products and services. From introducing convenient ways to enjoy new and exciting flavors to creating on-trend products and unique 'shoppertainment' (shopping + entertainment) experiences, CJ is at the forefront of innovating lifestyles worldwide. For more information, please visit http://www.cjamerica.com.
About Bibigo:
Founded in 2010, Bibigo is a global brand created by CJ, Korea's #1 food company. With over sixty years of experience, CJ has proudly been delivering flavor to dinner tables since 1953. Bibigo takes 5000 years of delicious cuisine and updates it for today's modern, non-stop lifestyles. That's why the name combines the Korean word "bibim," from a long cultural tradition of "mixed" flavors, with the English word "go." Inspired by authentic recipes, Bibigo makes the exciting tastes of Korean cuisine easily accessible with offerings in both grocery stores and restaurants in South Korea, America, and around the world. Bibigo brand represents global K-Style Food and CJ's new lifestyle. For more information, please visit http://www.bibigousa.com.
About the CIA
Founded in 1946, The Culinary Institute of America is the world's premier culinary college. Dedicated to developing leaders in foodservice and hospitality, the independent, not-for-profit CIA offers master's, bachelor's, and associate degrees with majors in culinary arts, baking & pastry arts, food business management, hospitality management, culinary science, and applied food studies. The college also offers executive education, certificate programs, and courses for professionals and enthusiasts. Its conferences, leadership initiatives, and consulting services have made the CIA the think tank of the food industry and its worldwide network of more than 50,000 alumni includes innovators in every area of the food world. The CIA has locations in New York, California, Texas, and Singapore. For more information, visit http://www.ciachef.edu.