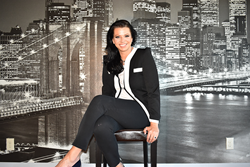 I'm passionate about teaching techniques and providing tools that will help sales people in their selling today and years to come.
CHARLESTON, S.C. (PRWEB) November 06, 2018
Claire Ansell Enterprises, a successful sales consultancy firm, announces the launch of The Real Sales Planner. The quarterly planning tool is designed to help sales organizations, teams, and individuals create quarterly sales goals, set monthly revenue targets, and develop a sales plan, with methodologies that are repeatable and trackable.
The durable wire-bound system leverages 15 years of in-the-field research on how sales professionals think, learn, and sell. Digital components are included, but the core process involves putting pen to paper. Research has proven this approach ensures the best results from high achievers. People who have written goals are 1.2 to 1.4 times more likely to succeed.
Our repeatable system trains the salesperson to set targets, create a plan, implement action, track progress, identify areas of growth and motivate results for maximum success. It's the ultimate sales tool that also balances a whole-person approach to life and success.
The Real Sales planner positions the sales professional for effectiveness by driving them to execution. The thoughtful design and methodology leverages a repeatable, street-proven system centered on the pillars of organization, process, accountability, and purpose. In short, it's a tool for success.
Claire Ansell takes each customer through video and written training on various sections of the planner during the initial 33 days after purchase. Topics are not only focused on quarterly goals, but the work/life balance of the salesperson. Claire feels a healthy mindset and whole-life living are the secrets to optimum performance—often ignored in a high stress career. Quarterly planning, monthly targets, and daily tracking and review keep a professional focused. A new set is delivered every quarter.
In a recent study, more than 40% of salespeople said prospecting was the most difficult part of their job, followed by closing (36%) and qualifying (22%). In the work that Claire Ansell Enterprises does with sales managers, they see a huge need for raising the performance of every professional on the team. For businesses to survive in the ever-changing marketplace, specific and focused training is in high demand.
"What I've learned is that salespeople don't want to waste their time sitting through unproductive training. They want to be out selling.
I respect that. I'm one of them.
I'm passionate about teaching techniques and providing tools that will help them in their selling today and years to come. The Real Sales Planner is a tool designed to help sales professionals at all levels of an organization.
This product will become the wise mentor at their side; the most valuable tool at their disposal. It will guide salespeople through their day, their week and their year," said Claire Ansell, CEO.
Claire Ansell believes that until a salesperson and sales organization owns the sales process, the client will own the process. Ultimately, this is not beneficial for either party. When the client owns they sales process, they miss out on the expertise of a valued partner. Whether the client ultimately purchases from the salesperson or not, the sales process should give them all the information they need to make a well-informed decision. Not only is this beneficial for the company, but the sales professional will be given valuable feedback to take back to their organization. Often a customer doesn't know all the questions to ask. It's not their product or service. A proper sales process ensures the best dialogue between the customer and the sales person, leading to the most successful outcome.
ABOUT CLAIRE ANSELL ENTERPRISES, INC.
Over the last 15 years, Claire Ansell has led a team of professionals who help a variety of organizations across hundreds of industries. The company helps fill in the gaps that may be hindering a client's business development goals—gaps within hiring, training, design, branding, sales processes, and strategic direction. Because they offer varied services that cross department lines, they are able to propel their customers to the next level by unifying the approach for multiple areas of the organization. They provide guidance, support, resources, and a positive attitude that results in building a strong foundation for success.
Everything they do focuses on helping companies generate revenue and achieve their growth goals. They work to understand the corporate DNA and become an integral part of their client's business strategy. This allows the client to deploy the right service at the right time—making them unique in the marketplace. http://www.claireansell.com & http://www.therealsalesplanner.com
MEDIA CONTACT
For media interviews contact Yolanda Harris at yolanda(at)thekeynotegroup.com or call 843-654-9344.To book Claire to speak at your next event or provide your team training email Bea Wray at booking(at)thekeynotegroup.com.