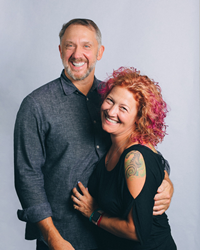 We treat every client, family member, possession and home with the love and respect they deserve, especially during what can be a challenging time. We want to be an extension of your family so you can focus on the things that matter most. - Claire Davids
ASBURY PARK, N.J. (PRWEB) July 07, 2020
With backgrounds in communications, logistics and operations, Claire Davids and Edward McCarthy are excited to announce the launch of their new senior-focused and family-oriented business – Caring Transitions of Monmouth County.
Caring Transitions' specially-trained professionals handle decluttering, organizing, packing, moving, resettling, in-home estate sales and online auctions, home clean-outs, estate clearing and preparing homes for market. Caring Transitions of Monmouth County serves eastern Monmouth County, including Tinton Falls, Redbank, Ocean Township, Long Branch, Eatontown, Asbury Park, Highlands, Atlantic Highlands and the surrounding areas.
"Caring Transitions is unique because we are a full-service company and because of the standards we hold ourselves to every day. We never lose sight of the fact that, when clients bring us into their homes, we are guests. We treat every client, family member, possession and home with the love and respect they deserve, especially during what can be a challenging time. We want to be an extension of your family so you can focus on the things that matter most," Davids said.
Caring Transitions' services are perfect for managing the many aspects of a senior move, including assisting with the process of downsizing to provide a safer living situation, as well as for busy families and people clearing out the home of a loved one who has moved into assisted care or passed away. All of Caring Transitions' services are customizable, so clients choose the solution that best fits their needs.
Davids moved to the United States when she was 19 years old and starting a shipping and logistics company when she was 21, which she grew to 300 employees and sold to UPS in 2014. Over the last few years, Davids has been volunteering to help underprivileged youth and the local SCORE chapter spending time with her family. McCarthy grew up in New Jersey and has a background is in communications, analytics, sales and management consulting. He also created, built and later sold his own newspaper in Redbank. As the two thought about what to do with their second act, McCarthy started to hear about Caring Transitions through a friend from college who bought a Caring Transitions franchise in another part of the state.
"There's no better way to get to know a community than to work in news and, especially after owning the newspaper, I knew I always wanted this to be my home. As we were considering buying a new business, I knew I wanted to do something that allowed me to reconnect with and serve this area and its residents in another way. Caring Transitions is a hyper-local business that allows us to be part of the fabric of this community," McCarthy said.
"The more we learned about Caring Transitions, the more it felt like a good fit for us. Caring Transitions allows to combine our skills – mine in logistics and back-end operations and Ed's in sales and marketing – to serve the community and support our family," Davids added.
In addition to their professional experience, Davids and McCarthy know what it's like for seniors relocating and the families trying to help. When he was in his 20s, his parents took in his grandmother and, more recently, his parents moved to be closer to his sister.
"Even though those moves were happy ones, they were both still incredibly stressful and emotional. My grandmother had lived in her house for 70 years and my parents had lived in theirs for 40 years. When you're trying to go through everything, decide what to take and what to leave behind, and then physically relocate, it can be emotionally and physically challenging," McCarthy said. "At Caring Transitions, we are here to make those transitions easier with our full suite of customizable services and our compassionate team."
Caring Transitions of Monmouth County, which is part of the national Caring Transitions franchise, is bonded and insured and employees are trained and background checked. For additional information, call 732-231-1000, email CDavids@CaringTransitions.com or visit http://www.caringtransitionsmonmouth.com/.