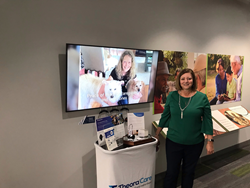 It's a huge honor to have our Theora Care family selected to be in the Thrive Center, alongside other technology leaders in this space that are dedicated to maximizing quality of life for older adults
AUSTIN, Texas (PRWEB) January 22, 2020
Clairvoyant Networks, LLC, award winning provider of technology for caregiving, announced today that its Theora®️ Care GPS remote monitoring and communications technology was selected for demonstration in the Thrive Center for Innovation in Louisville, Kentucky.
The Thrive Center showcases the latest technology and services for consumers and businesses needing solutions that support an older population. The Center's goal is to forge collaboration between technology leaders to bring transformative product advancements to market.
The stylish Theora Connect™ wearable for care recipients, used in conjunction with the Theora Link™ smartphone app for family members and caregivers, enables family and professional caregivers to remotely monitor care recipients, enabling older persons to thrive in place longer. Theora Connect unobtrusively tracks non-clinical activity and behavior patterns, monitors GPS locations, sets up Safe Zones with automatic wandering notifications, and provides hands free two-way voice communication—all important aspects of connecting families with their older relatives and friends. All Theora Care solutions are condition-specific for those with memory loss, Alzheimer's, dementia and Autism. The wearable uses 4G/LTE cellular, with forward compatibility with future cellular networks.
"Our mission at Thrive is to accelerate innovation in aging care. We are bringing the best technology for older adults together, in an immersive experience, and sharing it with the world. People can come here and actually see and touch what is available to support common and specialized problems that we may encounter as we grow older." remarked Sheri Rose, CEO and Executive Director of Thrive Center. "Clairvoyant Network's Theora Care line of caregiving and communications solutions is a natural fit for the Center, and we're excited to have them onboard."
Reports and data emphasize the need for more technology for an aging population, as people are living longer, and want to continue to enjoy an active lifestyle. In the U.S., 10,000 people will reach retirement age every day for the next two decades. In 2018, the U.S. Census Bureau reported that by 2030, 1 in every 5 residents will be retirement age, and by 2034 there will be more people aged 65 and older than those under the age of 18. Considering we are already in a care crisis situation - not enough caregivers to provide services to those who need it – the need for technology to fill the gap will continue to increase. This is supported by a rising technology adoption rate among adults aged 65 and older.
"It's a huge honor to have our Theora Care family selected to be in the Thrive Center, alongside other technology leaders in this space that are dedicated to maximizing quality of life for older adults," commented Stephen Popovich, CEO of Clairvoyant Networks, LLC. "Louisville is corporate headquarters to Signature HealthCARE, Kindred Healthcare and several other industry giants. The Center provides an environment where visitors can learn about what is new and helpful for active aging, while creating a think tank to stimulate discussion and cooperation between all types of care organizations in the area committed to serving the rapidly increasing older adult population."
The Theora Care family of remote monitoring and communication products are available now at theoracare.com.
About Thrive Center
Thrive Center, Inc. is a non-profit dedicated to transforming the quality of life and aging care for older adults. Thrive is a physical hub of innovation showcase built from a collaborative intersection of caregivers, entrepreneurs, researchers, healthcare providers, investors and consumers driving innovative solutions in aging. Thrive provides a place where older adults can experience and immerse themselves in technology and innovations. The center is unique in the United States and the world, and as such, convenes international stakeholders as well as leaders in the U.S. aging care environment. Visitors have come from across the globe to visit Thrive Center, learn more at http://www.thrivecenterky.org.
About Clairvoyant Networks, LLC
Clairvoyant Networks, LLC, with offices in Austin, TX and Raleigh, NC, has developed the Theora Care remote monitoring suite of IoT devices, SaaS platforms and applications to provide family and/or professional caregivers and care teams with current and historical status information, communications, and location services for care recipients. Recognized by Caregiver.com and Austin Inno for innovative technology, our products are being used in pioneering research projects at Emory University, Texas A&M University, the University of Texas at Austin and the University of North Texas. For further information and to see how we can help you, please reach us at http://www.theoracare.com, info@theoracare.com or follow us on Twitter @Theora_Care and @ClairvoyantUWB, Instagram clairvoyant_networks, Facebook.com/theoracare, Youtube.com/theoracare and LinkedIn Clairvoyant Networks.
Contact:
Clairvoyant Networks, LLC
Melanie Guthrie
melanie.guthrie@clairvoyantnetworks.com
512-371-6164
Contact:
Thrive Center
Sheri Rose
srose@thriveinnovationcenter.com
502-631-9422
© 2020 Clairvoyant Networks, LLC. Theora, Theora Connect and Theora Link are all registered or trademarks of Clairvoyant Networks, LLC. All other marks contained herein are the property of their respective owners.