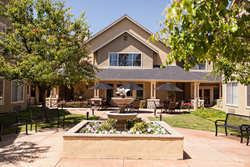 A deficiency-free survey confirms the exceptional work that is done daily by our committed and caring staff, that not only meets, but also exceeds state standards
CLAREMONT, Calif. (PRWEB) January 23, 2020
Claremont Place Senior Living, a Meridian Senior Living assisted living and memory care community in Claremont, CA, is proud to receive a deficiency-free survey in 2019 as administered by the California Department of Public Health (CDPH).
"A deficiency-free survey confirms the exceptional work that is done daily by our committed and caring staff, that not only meets, but also exceeds state standards," stated Glen Cummins Regional Director of Operations of Meridian Senior Living. "We look forward to more years of providing excellent care, attention to detail, and unparalleled customer service to our residents."
In order for an assisted living community to achieve a deficiency-free survey, all services provided at the community must meet or surpass all state and federal guidelines. A deficiency-free survey in California's thorough inspection is rare and a key indicator of excellence for an assisted living community. According to CDPH's 2016-17 data report (most recent available) over 17,000 deficiencies were recorded among senior living communities.
Assisted living communities are inspected periodically to assess services and systems in place and oversee fulfilment with federal and state laws and regulations. In a multi-day process, surveyors arrive unannounced to conduct interviews, inspect the physical building, observe the operations, and check records. Inspectors determine compliance with regulations governing areas including quality of care, quality of service, safety, residents' rights, and confidentiality. The assisted living community is awarded a "deficiency-free" survey when all of these regulations are met.
At Claremont Place, receiving a deficiency-free survey means that seniors can expect the highest level of care, which is important when selecting a senior living community. For more information about Claremont Place, visit https://www.claremontplace.com/ or call (909) 492-0763.
About Meridian Senior Living:
Meridian Senior Living, a privately held company based in Bethesda, Maryland, owns and operates seniors housing communities across the country and provides operational consulting to 24 communities in China. With more than 70 communities in 21 states and more in development, Meridian is one of the largest seniors housing operators in the U.S. The company prides itself on providing the highest quality care, exceptional lifestyle programming and a distinctive dining experience for its residents. For more information on Meridian Senior Living, visit meridiansenior.com.