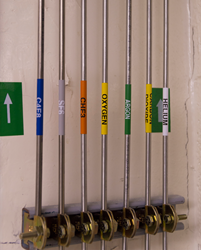 Piping is used in various ways across most industries, and we're glad to now be able to provide a state-of-the-art pipe identification program to help increase client safety.
MILFORD, Pa. (PRWEB) July 23, 2019
Clarion Safety Systems, a leading designer and manufacturer of safety labels, signs and tags, has recently launched a new online custom pipe marker designer, allowing customers to easily meet all of their pipe marking safety requirements right online. The easy-to-use tool provides design flexibility and convenience and takes just minutes to use.
Pipe markers play an extremely important role in safety. When working with piping, it is crucial for workers to be aware of the internal and external contents of a pipe to allow for safe handling. Pipes are utilized to transport various contents, including hazardous chemicals and energy, and are often highly pressurized. Not knowing what is flowing through a pipe can lead to serious injury or death in addition to facility and equipment damage. In the event of an emergency, response personnel need to be aware of the exact contents of a pipe to address the situation as quickly and safely as possible.
"We're excited to have recently added the pipe marker designer to our growing custom product line," said Ron Crawford, CEO of Clarion Safety Systems. "Safety is and always has been Clarion's goal, and providing manufacturers with safety products that meet the latest standards and regulations is our top priority. Piping is used in various ways across most industries, and we're glad to now be able to provide a state-of-the-art pipe identification program to help increase client safety."
With Clarion's custom pipe marker designer, users can create markers that conform to the standards set forth by the American National Standards Institute (ANSI) and the American Society of Mechanical Engineers (ASME). Under the ANSI/ASME system, pipes must contain a color indicating the category of the contents, a written label indicating the exact contents and arrows representing directional flow.
The nine colors used in the pipe marking system adhere to the ANSI/ASME A13.1 color code. Red identifies fire-quenching liquids, orange identifies toxic and corrosive fluids, yellow identifies flammable fluids and brown identifies combustible liquids. Green labels represent water while blue labels represent compressed air. The purple, black and white labels are user-defined, allowing for complete product customization.
According to the Occupational Health and Safety Administration (OSHA), several fatalities and injuries have been recorded between 1984 and 2018 due to pressurized pipe explosions and various caustic pipe contents. Applying highly visible, safety compliant markers to piping systems can help increase workplace safety while reducing legal liability. Visit Clarion Safety Systems for additional information about products and services.
ABOUT CLARION SAFETY SYSTEMS
Clarion Safety Systems is a worldwide leader in product and workplace safety communication. Clarion Safety designs and produces product safety labels and facility safety signs and tags – along with offering complementary solutions and services like safety and risk assessments – needed to reduce risk and protect people. The company also provides a wide range of printing services outside of the safety realm, addressing identification, branding, dataplates, serialization and more, to add value for its customers. With 30 years of safety standards leadership, Clarion Safety has unparalleled knowledge of national and international best practices and codes to meet specific regulatory requirements, from OSHA, ANSI and ISO to WEEE, RoHS and REACH. Its corporate headquarters and state-of-the-art production facility are located in Milford, PA, and products are made in the U.S.A. The company is a registered ISO 9001:2015 manufacturer and offers top 3M materials. For more information, visit http://www.clarionsafety.com.