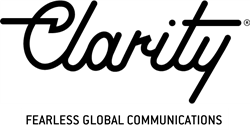 Working together, we are able to present a real alternative to the larger, slower network agencies in the fast-paced tech landscape
NEW YORK (PRWEB) November 12, 2019
Clarity, the US-headquartered communications agency, today announced a strategic partnership with The Brewery, the independent network of companies linked to communications agency freuds.
The deal will see The Brewery take a minority shareholding in Clarity in addition to a commitment to provide long-term investment and support for Clarity's ambitious growth plans.
As part of the agreement, the Los Angeles office and operations of Brew PR, previously run by Dena Cook who joined Mattel in March, will become part of Clarity, which currently has offices in New York, San Francisco and London.
The addition of the LA office to its portfolio will enable Clarity to expand its geographical reach and continue to thrive in a quickly consolidating and dynamic segment of the market, building on the extensive existing Brewery connections in the area. It gives the business significant reach across North America and will enhance its overarching creative capabilities.
The Brewery network has been built on a series of strategic investments by freuds to create a small but agile independent group of businesses with global reach and capabilities.
Sami McCabe, Founder and CEO of Clarity, said, "We have ambitious plans to rapidly grow Clarity's range of services and geographies in the coming years. The investment by freuds and The Brewery is an important validation of our strategy. We're very excited to work closely together to realize our vision."
Arlo Brady, CEO of The Brewery and freuds, said, "Our investment in Clarity further expands our geographical reach, in addition to our core capabilities, and places our business even closer to the heart of the new economy. Working together, we are able to present a real alternative to the larger, slower network agencies in the fast-paced tech landscape."
About Clarity
Clarity is a global integrated communications agency focused on telling the stories of the brands that are driving positive change through technology. Serving clients ranging from seed-funded start-ups to technology industry titans, Clarity brings together teams of experts who solve communications challenges and drive real business results using earned, paid and owned strategies. In addition to the company's fast-growing offices in New York, London and San Francisco, Clarity maintains a network of partner firms that provide global reach. For more information, visit http://www.clarity.pr.
About The Brewery
The Brewery network is an independent group of businesses brought together through strategic investments from freuds with global reach and capabilities. Businesses within the network include Republic (insight-based consultancy); Proud Robinson & Partners (experiential marketing); Atomized Studios (content development); freuds Signature (influencer network); freuds Branded (branding and design); and Social Misfits Media, (cause-focused social media and digital).