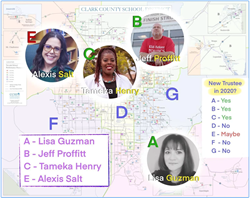 I believe Salt, Proffitt, Henry and Guzman could bring REAL, POSITIVE change to CCSD - Trustee Ford
LAS VEGAS (PRWEB) October 25, 2020
Danielle Ford, Trustee of Clark County School Board District F, recently announced her full support for the following candidates running for Trustee in 2020:
Alexis Salt, District E
Tameka Henry, District C
Jeff Proffitt, District B
Lisa Guzman, District A
This year is arguably the most important election in recent history, and given the fact that four out of seven seats are up for grabs, the races for CCSD trustee are probably the most important outside of the presidency. This election will dictate policy affecting 320,000 students for years to come, and it is crucial that the right people are elected.
Trustee Ford stated "The Trustee candidates who's beliefs and ideals about education are aligned with mine, and who I believe could bring REAL, POSITIVE change to CCSD if elected are as follows:"
"Alexis Salt is my pick for Trustee in District E
She's salty, and she has every right to be. Alexis is an experienced classroom teacher who believes in supporting the "whole child": focusing on mental health, teaching real-world skills, and relying less on standardized testing. I've witnessed Alexis speak up at board meetings for years, advocating passionately for students and staff.
Alexis Salt is a force to be reckoned with, and I know that she'd bring the same fire as a CCSD Trustee." stated Ford
More information about Alexis Salt can be found at https://AlexisSalt.com
"Tameka Henry is my pick for Trustee in District C
Tameka had me at We need more Headstart and pre-k programs throughout CCSD. YASSS TAMEKA! She is one of the most family, and community focused people I've ever met. As a mother of 4, she has firsthand knowledge of the good and bad parts of the district. She doesn't just talk about it, this lady takes action!
Tameka Henry would be a huge asset to CCSD as a board member." stated Ford.
More information about Tameka Henry can be found at https://VoteTamekaHenry.com
"Jeff Proffitt is my pick for for Trustee in District B
Jeff cares deeply about students in rural areas who are often left out of conversations. He attended school in CCSD and understands the complexities of the district. I highly support his ideas and plans to make vocational programs equally available at all schools tools.
I would be honored to serve alongside Jeff Proffitt," stated Ford
More information can be found at https://Proffitt4Education.com
"Lisa Guzman is my pick for Trustee in District A
I've come to know Lisa as a fierce voice for school staff at all levels, a passionate advocate for school funding, and a strong communicator with a lot of great ideas.
I believe Lisa Guzman would be a fantastic addition to the Clark County School Board." stated Ford
More information can be found at https://LisaGuzmanForTrustee.com
EXTREMELY IMPORTANT RACE
The Clark County School Board is currently deciding on several important issues including the reopening of schools, superintendent's contract, board governance and spending cuts to name a few. Your vote for the right candidate that will get things done, and work together for what's best for children, is important for anyone that is a parent, or plans on having a child attend school in Clark County.
This November 3rd, 2020 there are 4 out of 7 seats up for grabs. The Trustee candidates that win in November will take office on January 4th and begin their 4-year term right away.
If you live in one of these districts, please consider supporting these candidates and if there's no Trustee on your ballot this election, you can still make a difference by sharing with friends and family who live in these areas.
IMPORTANT DATES
Early voting ends on October 30th
Election Day is November 3rd