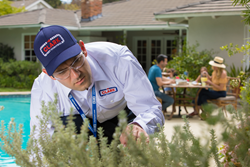 "We felt like there wasn't a company out there who took care of their customers and employees as well as Clark has for the past 70-plus years." Eric Campbell, president of Brooks Pest Control
LIVERMORE, Calif. (PRWEB) November 03, 2021
Clark Pest Control announced today that it is acquiring Brooks Pest Control, a pest management provider based in Livermore, CA.
Clark Pest Control will bring Brooks' 45 full-time employees onboard and will distribute Brooks' 22,000+ accounts across 10 of the 28 service centers it operates in California and northwestern Nevada.
Brooks Pest Control was established in 2017 to provide service to residential customers in the San Francisco Bay Area, with a focus on the East Bay and Tri-Valley regions. The company's footprint extends beyond those areas, however, with many accounts spread across the Central Valley and elsewhere in northern California. All those accounts have been serviced out of the company's Livermore headquarters.
"We got to know Brooks Pest Control as a competitor, through our shared territory and a mutual respect for quality business practices and services," said Robert Baker, president of Clark Pest Control. "The more we learned about their operation, the more we became convinced that it would make good business sense to find a common road forward."
"Selling a company is never an easy decision," said Eric Campbell, president of Brooks Pest Control. "Luckily for us, choosing to go with a company as reputable as Clark has made it a lot easier. We felt like there wasn't a company out there who took care of their customers and employees as well as Clark has for the past 70-plus years. We're excited to see where this partnership takes us."
Brooks will retain its sales office in Orem, UT, along with sales teams, managers, and key executives, to help the company grow in other markets.
About Clark Pest Control:
Founded in 1950 by Charlie Clark, Lodi, Calif.-based Clark Pest Control since then has grown from one man with a truck in Stockton, CA to one of California's largest pest management providers, with a network of 27 regional service centers around the state and an additional one in northwest Nevada. The company offers innovative pest management, termite control, mosquito control, lawn fertilization, weed control, bird exclusion, bed bug remediation, burrowing rodent solutions, and disinfecting services for commercial accounts and residential customers. In 2019, the company, headquartered in Lodi, CA, became part of the Rollins Specialty Brands family, a division of Rollins, Inc., based in Atlanta, GA. Learn more about Clark Pest Control at http://www.clarkpest.com