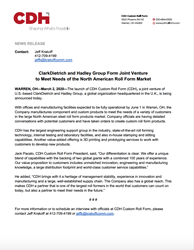 Our differentiation is clear. We offer a unique blend of capabilities with the backing of two global giants with a combined 100 years of experience.
WARREN, Ohio (PRWEB) March 02, 2020
The launch of CDH Custom Roll Form (CDH), a joint venture of U.S.-based ClarkDietrich and Hadley Group, a global organization headquartered in the U.K., is being announced today.
With offices and manufacturing facilities expected to be fully operational by June 1 in Warren, OH, the Company manufactures component and custom products to meet the needs of a variety of customers in the large North American steel roll form products market. Company officials are having detailed conversations with potential customers and have taken orders to create custom roll form products.
CDH has the largest engineering support group in the industry, state-of-the-art roll forming technology, internal testing and laboratory facilities, and also in-house stamping and slitting capabilities. Another value-added offering is 3D printing and prototyping services to work with customers to develop new products.
Jack Pacalo, CDH Custom Roll Form President, said, "Our differentiation is clear. We offer a unique blend of capabilities with the backing of two global giants with a combined 100 years of experience. Our value proposition to customers includes unmatched innovation, engineering and manufacturing knowledge, a large distribution footprint and world-class customer service capabilities."
He added, "CDH brings with it a heritage of management stability, experience in innovation and manufacturing and a large, well-established supply chain. The Company also has a global reach. This makes CDH a partner that is one of the largest roll formers in the world that customers can count on today, but also a partner to meet their needs in the future."
# # #
For more information or to schedule an interview with officials at CDH Custom Roll Form, please contact Jeff Krakoff at 412-709-4199 or jeffk@krakoffcomm.com