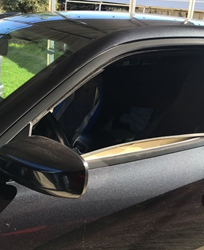 ATLANTA (PRWEB) December 17, 2020
Atlanta-based Webb, Klase & Lemond, LLC, Kansas City-based Wagstaff & Cartmell, LLP, and Detroit-based FinkBressack have filed a class action lawsuit against automotive giant FCA US, LLC ("Chrysler") alleging it knowingly sold Dodge Charger and Chrysler 300 vehicles with interior trim panels that peel away from the adjacent surface of the vehicle frame ("the defect"). According to the suit, this defect creates gaps that are both unsightly and can result in serious safety issues. Chrysler is the third largest automobile manufacturer in the United States.
The suit alleges that the defect is most prominent on the front doors, but also occurs on the rear doors, center console, and dashboard. The suit alleges Chrysler did not take steps to correct the defect during the manufacturing process, actively concealed the defect from the public, and continued to market and sell Chargers and 300s with the defect even after thousands of Charger and 300 owners and lessees complained. The suit alleges that Chrysler has failed to adequately remedy the defect while the cars are under warranty. Chrysler concedes that it must fix the defect while the cars are under warranty but it only performs a superficial repair that is bound to later fail. After the vehicles are outside the warranty period Chrysler refuses to repair the defect.
Once the defect begins to show itself, the vehicles – both of which are marketed as high-end cars – appear ugly and cheap. In addition to being unsightly, the defect raises serious safety issues. Most obviously, because the side airbags in both vehicles are located inside the door cavity, the proper deployment of the airbags is undermined when the cavity is not secure. The defect can also hamper the safe operation of the door locks, anti-theft mechanisms, and heating/cooling systems.
The plaintiffs seek to compel Chrysler to fix the defect in all affected Charger and 300 model vehicles. They also request reimbursement for all damages owners and lessees sustained as a result of the defect. Further, they demand that the Court order Chrysler to cease and desist designing, manufacturing, distributing, marketing, and selling the vehicles with the defect.
Counsel are also investigating similar defects in 2014 to 2021 model year Dodge Challengers.
The case, styled Johnson, et al. v. FCA US, LLC, is pending in the United States District Court for the Eastern District of Michigan and has been assigned case number 4:20-cv-12690-MFL-DRG.
If you wish to discuss this action, have been victimized by the defect, or have knowledge about the defect, please contact Webb, Klase & Lemond, LLC at (770) 444-0998 or contact@WebbLLC.com or Wagstaff & Cartmell, LLP at (816) 701-1167 or contact@wcllp.com. You may also visit the firms' websites at http://www.WebbLLC.com and http://www.wagstaffcartmell.com.