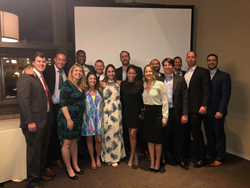 Great information and insight from the professionals. Each session and webinar, I learned new skills to employ in my practice.
ALBUQUERQUE, N.M. (PRWEB) August 28, 2018
The Long Term Care Risk/Legal Forum (LTC Forum) and Pendulum, LLC are proud to announce the graduating class of the 2018 Long Term Care Power Lawyers. The final sessions of the program and the graduation ceremony were held in conjunction with the LTC Forum Committee Meeting in Chicago, Illinois, on August 16.
The Long Term Care Power Lawyers Program is an eight-month program designed to teach long term care trial practice skills to young attorneys who work defending the long term care industry. This program grew out of the LTC Forum, in partnership with Pendulum, LLC.
With four in-person sessions and five webinars, these young lawyers were provided instruction on trial practice skills in long term care cases. A faculty of defense attorneys and subject matter experts provided a wide range of instruction pertaining to the skills needed for defending a case, including the use of videos to show students how they appear while presenting parts of a case, with constructive criticism provided by the highly experienced faculty. Complementing the educational component of the program was the opportunity for students to network with various in-house counsel and faculty members.
This year's graduating class of Long Term Care Power Lawyers and the law firms they represent are: Jonathan Blakley, Gordon Rees Scully Mansukhani, Chicago, Illinois; Weathers Bolt, Starnes Davis Florie, Mobile, Alabama; A.J. Cheek, Huff Powell Bailey, Atlanta, Georgia; Brett Cornwell, Quintairos, Prieto, Wood & Boyer, P.A., Dallas, Texas; Spencer Craig, Hall Booth Smith, P.C., Charleston, South Carolina; Joseph Delisi, Dunn and Dunn, Boston, Massachusetts; Lauren Herrera, Horne Rota Moos, LLP, Houston, Texas; Chris Jones, Gordon Rees Scully Mansukhani, Denver, Colorado; Carly MacMillan, Hall Booth Smith, P.C., Nashville, Tennessee; Christopher Mars, Bonezzi Switzer Polito & Hupp Co. L.P.A., Cleveland, Ohio; Jude Steininger, Burns White, West Conshohocken, Pennsylvania; and Heather-Ann Young, Perry, Johnson, Anderson, Miller & Moskowitz LLP, Santa Rosa, California.
Two members from the Inaugural Class of the Long Term Care Power Lawyers (2017) also received plaques after completing the August 2018 program: Caitlin Kramer, Fudge Broadwater, P.A., St. Petersburg, Florida; and Jonathan Williams, Hagwood and Tipton, PC, Hillsborough, North Carolina.
Participation in the program is offered to those young lawyers who work for law firms who are current members of the LTC Forum. For more information on the Long Term Care Power Lawyers program or the LTC Forum, please call (888) 803-4447 or email Adminstrator@LTCPowerLawyers.com.
The LTC Forum is an online, collaborative network of professionals who serve the long term care industry. The Forum's purpose is to provide the long term care industry a secure online environment where legal and risk management professionals throughout the country can share information and ideas in an effort to more effectively manage and reduce risk.
Pendulum, LLC is a full-service, independently owned risk management company providing consulting services, tools, products, and training to healthcare providers of all types. The company's mission is to assist organizations with minimizing professional and general liability risk and strengthening defensibility. Its unique third-party approach in evaluating potential risk provides clients with innovative risk management strategies.