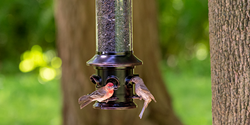 Having a 100% remote deployment as planned from the start, ended up being quite favorable in light of recent worldwide events which did not slow us down at all.
CAMPBELL, Calif. (PRWEB) June 23, 2020
Classic Brands, the designer, manufacturer and distributor of wild bird feeders and birding products, has gone live on time and on budget with Centric Software®'s Product Lifecycle Management (PLM) solution for emerging brands, Centric SMB. Centric Software provides the most innovative enterprise solutions to fashion, retail, footwear, outdoor, luxury and consumer goods companies to achieve strategic and operational digital transformation goals.
Classic Brands, based in Denver, CO was founded in 2010. They are dedicated wild bird aficionados who employ innovative engineering and extensive field-testing on their feeders and related birding supplies, which can be found on the shelves of many major retailers.
To accommodate their rapid sales growth and increasing reach across different geographies and demographics, Classic Brands needed to replace an existing system that had reached its limits. They needed the capability to handle an increasing number of products and support their eCommerce platform.
Lindsey Nifong, marketing director of Classic Brands says, "We chose Centric PLMTM because it was best aligned with how we conduct our business and the way we develop products. Everyone we've dealt with from Centric has been up-front and helpful. The team is very knowledgeable and has been able to answer any questions that we have."
Cloud-based Centric SMB, a SaaS PLM solution tailored for small to medium businesses, speeds product development, optimizes product costs and increases brand responsiveness. With no servers to buy and no complicated programming to perform, it can be up and running in a flash.
Nifong says, "The implementation went smoothly. It was on-time and on-budget. Having a 100% remote deployment as planned from the start, ended up being quite favorable in light of recent worldwide events which did not slow us down at all. In fact, it saved time and was an efficient and safe way to work."
Nifong gives the latest update, "Our people are excited to use the system on a regular basis!"
"We are delighted that our 100% remote deployment of Centric SMB was so successful and met Classic Brands' goals, deadlines and budget," says Chris Groves, President and CEO of Centric Software. "We look forward to seeing what Classic Brands will achieve in the years to come and are proud to be a partner in their digital transformation journey."
Learn more about Consumer Goods PLM
CLASSIC BRANDS (http://www.classicbrands.net)
Classic Brands is a group of dedicated wild bird enthusiasts that want to help you "Make a World of Difference." We have just the right feeders for your wild bird sanctuary. No matter where you live—a suburban oasis, a backyard deck or sprawling open country—we can help you attract the most birds. Our company is different because we design feeders that are based on consumer feedback and surveys, countless hours of field testing, and innovative product engineering. We design and manufacture with an unparalleled passion for what is best for the birds and for our customers.
In this world of constant demands and crazy pace, we want to help you reconnect with nature and feed your soul with something that's also Making a World of Difference for the birds. So do something good for yourself, your family, your friends, and the environment. Just Feed Birds.