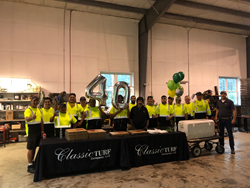 "I found it hard to believe in this day and age, we couldn't install a tennis court that would last."
WOODBURY, Conn. (PRWEB) August 06, 2020
In the summer of 1980, Tumer Eren was becoming increasingly frustrated by seemingly working on the same cracked asphalt tennis and basketball courts each year. He figured there must be a better, more efficient and longer lasting solution for communities and property owners investing in athletic courts.
Shortly thereafter, Eren founded Classic Turf Company, which is the first business to use post tension concrete technology on athletic courts in the New England area. The decision proved to be a wise one; since its inception 40 years ago, Classic Turf Company has had the privilege of building countless tennis courts, basketball courts, running tracks and other athletic facilities featuring post tension concrete technology and their very own Prime Coating Sports Surfaces.
Classic Turf Company builds courts for a wide range of clients, including schools, municipalities, residential owners and more. Eren credits the durability of his courts as a primary reason for his company's longevity. Said Eren, "I found it hard to believe in this day and age, we couldn't install a tennis court that would last." Through the use of post tension concrete, he found a lasting solution, as surfaces are guaranteed by Classic Turf Company for 20 years. That guarantee felt near impossible back in 1980, but now has become a standard in the athletic court construction industry.
Based out of Woodbury, CONN, Classic Turf Company builds courts throughout the country. Over their 40 years, Classic Turf Company has won many industry awards, including the Award of Excellence from the Post-Tensioning Institute. In reflection of their milestone anniversary, Classic Turf Company celebrates the fact that myriad individuals have stayed active and healthy while enjoying the games they love on their industry recognized athletic courts.
For more information about the company's history and services, visit their website at https://www.classicturf.org/ or call toll free at 800-246-7951.