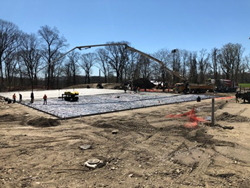 NORWALK, Conn. (PRWEB) February 28, 2020
Serving as the general contractor of the project, Classic Turf Company recently designed, constructed and installed post tension concrete tennis courts for Springwood Ely Park in Norwalk, Conn. The expansive project resulted in the William Rippe Tennis Center and provides youth in the area and other community members with state-of-the-art outdoor tennis courts.
The previous facility consisted of four asphalt courts that were in poor condition. As part of the project, the park nearly doubled in size and Classic Turf Company rehabilitated the older courts with a new post tension concrete foundation and a patented Prime Coating surface. In addition, Classic Turf Company designed and constructed two brand new post tension concrete courts, as well as new tennis courts with special dimensions for youth players 10 years and younger. Classic Turf Company also provided lighting solutions for two of the tennis courts to ensure players could play at night.
Notably, Classic Turf Company and others working on the project moved approximately 2,000 cubic yards of earth as part of the expansion. The dream project became a reality after the city of Norwalk received grant money from the United States Tennis Association. Working in conjunction with Grass Roots Tennis, a local organization that provides youth tennis coaching and programs, the city of Norwalk moved forward with plans invest in the area's love for tennis and to help promote active lifestyles.
The courts are named after the late William Rippe. Rippe was a prominent supporter and philanthropist of the Norwalk Grassroots Tennis & Education program and was an avid local tennis player.
Located in Woodbury, Conn., Classic Turf Company provides post tension concrete solutions for tennis courts, basketball courts and running tracks. Using patented technology, Classic Turf Company has provided courts for communities, schools and private property owners throughout the country.
If you have any questions about the benefits of tennis courts with a post tension concrete base, visit Classic Turf Company's website at http:// https://www.classicturf.org/ or call toll free at 800-246-7951.