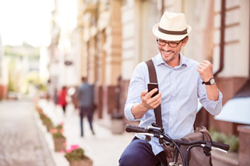 I simply don't have the time to get in front of a computer so I can check on status updates.
PASADENA, Calif. (PRWEB) May 03, 2019
Claymind, a software development company in Los Angeles has just launched its App development service. Small to medium businesses who want to establish a faster, more efficient communication channel with its customers are the primary target of this service. "Customers can easily access your app on their devices to find what they're looking for! They also get real-time push notifications such as the latest deals, promos and news. With a website, they need to open a browser, type the URL, Log in, then try to find what they're looking for.  That's a lot of additional steps!" says G3 Misa, CEO of Claymind. The point is, once the user has your app installed on his phone, and as long as your app delivers value, he will continue to use it in his daily lifestyle.
Apps are becoming more widely used than websites for people who are on the go. Samuel Hib, a contractor in Pasadena says, "I simply don't have the time to get in front of a computer so I can check on status updates. I have apps that remind me and notify me when important actions need to be taken. One of my favorites is the CVS app which not only tells me when my medicines are ready for pickup, it also stores my rewards and payment information! The cashier only needs to scan my phone. How handy is that?" Apps that eliminate a lot manual steps are the ones most loved by users.
Aside from just selling their products and services, businesses also see the value of collecting important user behavior data through the app. For instance, how much time does a user spend in the checkout screen? What are his favorite things to search? When was the last time he logged in? How come he never came back? All these are essential in building a more personalized user experience.
Claymind has been building professional websites since 2012. From small personal websites, to large enterprise web applications. One of their biggest clients, Dentistreet is a dental marketing agency that provides dental practices with a content management system for their websites. Now, they are having their iOS and Android apps developed by Claymind.
For more information about having an app or website developed, visit Claymind at Claymind.com for more details.