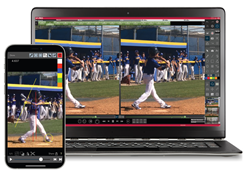 The ease and versatility of the V1 Baseball platform, coupled with the tremendous and growing array of top-caliber coaches using the V1 System, will help us make an immediate impact in baseball and softball.
NOVI, Mich. (PRWEB) December 09, 2020
V1 Sports, developer of state-of-the-art video sports performance analysis technology, reports that the new V1 Baseball mobile video analysis app is quickly gaining attention and acceptance from top baseball and softball organizations, like Major League Baseball (MLB) and the National Fastpitch Coaches Association (NFCA). The free V1 Baseball app empowers athletes to improve their personal baseball skills by capturing and reviewing their techniques with detailed baseball hitting, fielding or pitching analysis and easy-to-use and responsive playback tools.
V1 Baseball was featured as an "emerging technology" at the MLB's Winter Meetings Sports Science & Baseball Tech Exhibition the week of Dec. 7. MLB Director of Innovation and Venture Investing, Mike Shapiro, presented the innovative app and video analysis system to the Commissioner's Office and 30 Major League clubs in attendance at the Winter Meetings.
V1 Sports Vice President Gary Palis was also asked to speak to 50 representatives from Major League teams during the MLB's Spring Meetings. Palis has been presenting data and insight on V1 Sports' role in the future of technology in baseball.
"There's long been cutting edge technology in baseball, but we're opening eyes on how zoned in V1's tools are for skill-specific improvement with an extremely well-designed platform that measures crucial details. For a coach to be able to instantly show a pitcher his slider motion versus how he moves to throw a fastball is highly useful technology," Palis says. "We've built some strong relationships with teams that we will look forward to growing for a long time."
The V1 Baseball team includes Scott Van Slyke and Shawn Tolleson, the founders of Practice with Pros, LLC, a baseball instruction company that makes professional-level coaching from top-tier baseball and softball professionals. The Practice with Pros coaching roster includes current and former MLB players whose expert coaching is available through the innovative V1 Baseball mobile platform. World Series winner, perennial All-Star and two-time Cy Young Award winner Clayton Kershaw of the Los Angeles Dodgers is an ambassador for Practice with Pros.
Van Slyke and Tolleson, along with V1 Sports' Marcela Hammond, are on hand Dec. 9 – 11 at the NFCA Virtual Convention, where attendees have many opportunities to learn, network, socialize and conduct business with some of the best minds in softball, while also being introduced to the newest innovations in the game. The traditionally-in-person event is still showcasing the industry's most trusted and cutting training technology, albeit online.
By sharing videos of their baseball motions (hitting, fielding or pitching form), athletes can receive personalized voice-over video lessons from a growing network of expert professional baseball coaches who use the V1 Sports platform, including a growing roster of current and former Major League Baseball players. Baseball coaches can download the V1 Pro app to create and deliver voice-over video lessons to their students.
"The ease and versatility of the V1 Baseball platform, coupled with the tremendous and growing array of top-caliber coaches using the V1 System, will help us make an immediate impact in baseball and softball. Both coaches and athletes have expressed universal excitement for our technology and the dynamic way it strengthens the level of training, as well as those all-important student-coach bonds," says V1 Sports CEO Bryan Finnerty.
V1 Baseball's coaching platform incorporates a powerful combination of live video capture of hitting, pitching or fielding analysis, voice-over tips, telestration, graphic overlay, lesson creation and delivery tools for baseball and softball, all secured on cloud storage. V1's high resolution, high-frame-rate (240 FPS in HD) cameras capture an athlete's hitting, pitching motion or fielding technique from angles and depths that allow the expert coach to pinpoint key training elements and then quickly devise a personalized, custom lesson and send it directly to the student through the V1 mobile app or email. Advanced editing and drawing tools, slow-motion and frame-by-frame playback help coaches convey key components of each lesson. An HD professional model library allows coaches to compare a student's body motion and technique to a trained professional's movements.
The new V1 Baseball mobile app is now available in the iOS App Store with optimized video capture and coaching for all baseball and softball skill sets. Users can flip the camera orientation to accommodate right- or left-handed swings and videos can easily be shared on social media or via email.
The full directory of V1 Baseball-affiliated baseball academies who offer online instruction can be found at https://v1sports.com/athletes/v1-baseball-app/.
About V1 Sports
V1 Sports is the leader in video analysis software and mobile apps, revolutionizing the way coaches and athletes improve. Founded in 1995, V1 Sports offers tools to capture, review, and analyze athletic movement and is the pioneer in delivering seamless voice-over video lessons with integrated telestration. With more than 10,000 coaches and 3 million athletes, V1 Sports has become the preferred video analysis solution for the most respected coaches, instructors, athletes, and training facilities around the world. Visit https://v1sports.com/. Follow V1 on Twitter, Facebook and Instagram at @v1sports.