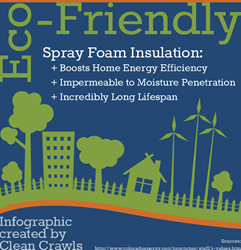 Clean Crawls states, "If you're looking to improve your home's energy efficiency and decrease your carbon footprint, spray foam insulation is the way to go."
Seattle, WA (PRWEB) November 25, 2014
For homeowners that are concerned about whether or not their home is energy efficient, or are sadly realizing that it's time for a replacement of insulation, a recently released infographic by Clean Crawls will help them make an educated choice about insulation.
The new infographic from Clean Crawls informs homeowners about the benefits of spray foam insulation. This form of insulation has been around for decades, but is only recently becoming the top choice among the myriad of insulation options, thanks to the eco-friendly movement that is sweeping the nation.
Clean Crawls states, "If you're looking to improve your home's energy efficiency and decrease your carbon footprint, spray foam insulation is the way to go."
The article from Clean Crawls explains that closed-cell spray foam insulation is not only exceptionally long lasting, diminishing waste and overuse of synthetic materials, but it is also impermeable to water and moisture. Clean Crawls explains that this diminishes possibility of mold growth and improves home air quality.
In addition to these other benefits, the primary advantage of closed-cell spray foam insulation is its incredible R-value—the highest of any other insulation on the market. This quality has prompted builders and homeowners alike to realize that, while the initial investment is greater, they have the benefit of an extremely effective insulation preventing air transfer in their home, keeping energy costs surprisingly low.
Also, open-cell spray foam insulation has a comparably high R-value as well, and its properties allow it to act as a sound absorption material. Save money on energy bills and enjoy a quiet home with less echos, noise carry, and disturbances.
For those curious to know more about spray foam insulation and Clean Crawls insulating services, simply visit our website.
Clean Crawls encourages curious homeowners, saying, "We would be delighted to partner with you in an effort to make your home more eco-friendly and, as a result, save you money as well."
About Clean Crawls:
Clean Crawls provides attic and crawl space cleaning, weatherization, and insulation services. Homes and businesses alike have the opportunity to be clean and healthy at affordable rates, as well as save energy throughout the year. Visit http://www.cleancrawl.com today for more information and a free quote.
3707 124th St NE
Marysville, WA 98271
(866) 651-1700