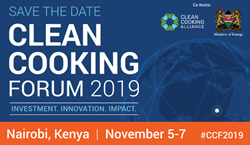 "We are delighted to be co-hosting this Forum in Kenya at a time when innovative technologies, business models, financing, and policies are contributing to ever-growing momentum in the clean cooking sector."
NAIROBI, Kenya (PRWEB) August 14, 2019
The Clean Cooking Alliance ("Alliance") today announced that registration is open for the Clean Cooking Forum 2019, a three-day event taking place in Nairobi, Kenya, from November 5-7. Co-hosted by the Alliance and the Kenya Ministry of Energy, the biennial Forum will draw a diverse set of investors, executives, government officials, academics, and advocates from around the world working to build an inclusive industry that makes clean cooking accessible to the three billion people who live each day without it.
Last held in Delhi, India, in 2017, the sector's flagship event is expected to attract some 400 attendees representing over 30 countries. With the theme of "Investment. Innovation. Impact," the Forum will offer a unique opportunity to demonstrate the benefits of accelerating access to clean energy for cooking, attract increased investment, and highlight Kenya's progress on this issue. As clean cooking directly supports 10 of the 17 Sustainable Development Goals, the Forum will be an important opportunity to advance joint action toward Agenda 2030.
"We're excited to partner with the Clean Cooking Alliance to host the 2019 Clean Cooking Forum, both to showcase our country's progress on clean cooking and also to join efforts to accelerate innovation and investment in this critical work moving forward," said Energy Cabinet Secretary Hon. Charles Keter. "Kenya has made a commitment to have 100% of its population having access to modern energy services for cooking by 2030 and is keen to work with like-minded partners to realize this target."
"If undertaken at scale, clean cooking could represent one of the greatest opportunities to improve global public health in our time," said Dymphna van der Lans, Alliance CEO. "We are delighted to be co-hosting this Forum in Kenya at a time when innovative technologies, business models, financing, and policies are contributing to ever-growing momentum in the clean cooking sector."
This year's Clean Cooking Forum aims to:

Highlight technological innovations and last-mile distribution mechanisms to accelerate universal access to clean cooking;
Promote the role of a conducive investment climate in attracting private sector investment in the clean cooking sector;
Showcase Kenya as a hub for innovation, investment, and supportive government action on clean cooking;
Share evidence-based research and best practices to inform prioritization of policy actions to strengthen the clean cooking industry; and
Demonstrate how countries and governments are integrating clean cooking into their national development and climate action plans and leveraging the role of donors to achieve the Sustainable Development Goals.
During three days of informative sessions, networking events, innovation exhibitions, and site visits, leaders from business, finance, civil society, government, and academia will share best-practices, explore creative approaches and financing mechanisms, and help forge new partnerships.
The Alliance is seeking national, regional, and international partners, including sponsors, to collaborate in the Clean Cooking Forum.
Interested parties may register for the Clean Cooking Forum online and learn more about the event by visiting http://www.cleancooking2019.org. For additional information, please e-mail the Alliance at registration@plumeconsultants.com.
About the Clean Cooking Alliance
The Clean Cooking Alliance works with a global network of partners to build an inclusive industry that makes clean cooking accessible to the three billion people who live each day without it. Established in 2010, the Alliance is driving consumer demand, mobilizing investment to build a pipeline of scalable businesses, and fostering an enabling environment that allows the sector to thrive. Clean cooking transforms lives by improving health, protecting the climate and the environment, empowering women, and helping families save time and money. To learn more about our work, visit http://www.CleanCookingAlliance.org and follow us on Facebook, Twitter, Instagram, and LinkedIn.