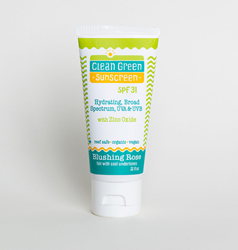 CLEAN GREEN SUNSCREEN has you covered. It smooths on with the silkiness of a high-end CC cream while its organic ingredients – including antioxidants – nourish the skin. Available in 4 tints, this multi-tasker acts as a primer, a moisturizer, and a highly effective sunscreen (spf 31+)
LOS ANGELES (PRWEB) September 03, 2019
WHO:
Clean Green Sunscreen is a new product that adheres to the FDA's proposed guidelines. With the sole active ingredient of non-nano, uncoated, not-micronized French Process Zinc Oxide, it safely providing broad-spectrum UVA & UVB protection, nourishment, hydration, and coverage, organically.
WHAT:
Exhibiting at The International Congress of Esthetics and Spa in Long Beach, CA on September 8 & 9
Clean Green Sunscreen is:
Free of chemicals & fragrances
Free of common allergens
Recommended by dermatologists
Vegan & cruelty-free
Reef Safe
Safe for the planet and the entire family, including babies and pregnant women
Available in 4 tints.
This multi-tasker acts as a primer, a moisturizer, and a highly effective sunscreen (spf 31+), essentially acting as a CC cream:
Blushing Rose: fair with cool undertones
Naked Truth: medium with neutral undertones
Warm it Up: medium/dark with warm undertones
Bronzed Buns: dark with dark/warm undertones
Tint-free options:
Snow Bunny: goes on white and blends into all skin types. spf 32
D-light: Vitamin D3 fortified formula is safe for the entire family. spf 35
WHERE:
The International Congress of Esthetics and Spa at
Long Beach Convention Center, CA
WHEN:
Sunday and Monday, September 8 & 9
Hall C | Booth #934
PRODUCT INFORMATION:
Active ingredient:
Non-nano, uncoated, not-micronized French Process Zinc Oxide.
Non-active ingredients:
Artesian Spring Water
Certified Organic Extra Virgin Olive Oil
Certified Organic Jojoba Oil
Vegetable Glycerin
Organic Shea Butter
Vegetable Emulsifying Wax NF (cetearyl alcohol & polysorbate 60 from coconut)
Vegetable Vitamin E (non-gmo from sunflower seeds)
Iron Oxides – only in tinted versions
About Clean Green Sunscreen
Safely providing broad-spectrum UVA & UVB protection, nourishment, hydration, and coverage, organically, Clean Green Sunscreen's active ingredient is non-nano Zinc Oxide, spf 30+. It is manufactured in the USA and follows the latest FDA sunscreen regulations and GRASE (generally recognized as safe and effective) guidelines. It is free of chemicals and fragrances, common allergens, uses ingredients recommended by dermatologists, and is safe for the planet and the entire family, including babies and pregnant women. It is available in four tinted and two non-tinted shades. For more information, visit http://www.cleangreensunscreen.com