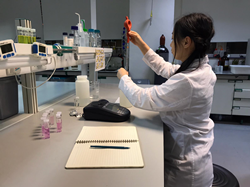 The Drop by Drop Project reinvests capital from Las Vegas Sands' water stewardship efforts into innovative projects supporting water champions in its local regions.
ORLANDO, Fla. (PRWEB) November 23, 2021
Clean the World Foundation, a leader in global health dedicated to water, sanitation, and hygiene (WASH) and global sustainability, in partnership with Las Vegas Sands (NYSE: LVS), has selected the Drop by Drop Project 2021's grant recipients. The Drop by Drop Project reinvests capital from Sands' water stewardship savings into innovative projects supporting water champions in its local regions.
The University of Saint Joseph Macao (USJ), Institute of Science and Environment returns as a 2021 recipient for the Drop by Drop Project. The university began research pertaining to local wetlands, with special focus on mangroves, in 2020 as a grant recipient and will continue this research to provide nature-based solutions to climate change. Through research and community awareness campaigns, USJ aims to engage 3,000 students and Macao local residents.
"This second round of support from Clean the World and Sands through the Drop by Drop Project, will enable us to take further steps into our research, with more focus on the role of mangroves as a nature-based solution for climate change adaptation and mitigation," said Karen Tagulao, USJ professor and researcher. "We aim to make a significant impact to the local community through our outreach program."
A second Drop by Drop Project grant has been awarded to Conservation International Singapore to focus on development of a virtual learning series for students ages 7-14, supporting educators and parents in raising awareness of the importance of protecting the ocean and nature, with ideas for action beginning at home. In addition, the series aims to inspire and empower future generations of Singaporeans to develop an appreciation of marine environments and take action for nature.
"The ocean is the origin and engine of all life on this planet," said Richard Jeo, Ph.D., Senior Vice President, Conservation International Asia-Pacific Field Division. "This virtual learning series will highlight the importance of protecting the ocean for human well-being, using examples of Conservation International's projects in the region, making it relevant to the Singapore audience. We are honored to be the recipient of this year's Drop by Drop Project grant and to partner with Sands and Clean the World Foundation in bringing this important topic to a wider audience."
Clean the World Foundation and Sands kicked off the Drop by Drop Project at the beginning of 2019, and since that time the initiative has created water-based solutions for a clean and safer Macao (University of Saint Joseph Macao, Institute of Science and Environment, 2020), used wetland ecosystems as a nature-based solution for climate change adaptation and mitigation in Macao (University of Saint Joseph Macao, Institute of Science and Environment, 2021), fabricated a river plastic collection device (Seven Clean Seas, 2020-present), launched teacher training programs: "Discover a Watershed" and "Project Wet" (Get Outdoors Nevada, 2020), and developed a marine Conservation virtual learning series (Conservation International, 2021).
"Both USJ and Conservation International are true champions of their causes," said Katarina Tesarova, Chief Sustainability Officer, Global Sustainability, at Sands. "Each organization is driving substantive change in their communities through local engagement on water stewardship and ecosystem health. We believe each project can make significant impact on the community."
The Drop by Drop Project's principal priorities include reinvigorating ecosystems by safeguarding and restoring aquatic ecosystems; leveraging technologies to create innovation and water efficiency solutions, increasing resiliency by strengthening community responses to floods, droughts, and water risks; and engaging communities on the vital importance of water.
"Because of the high-impact water conservation programs implemented by Sands, these grant recipients are receiving critical funding to advance important research," says Shawn Seipler, Chairman of the Board, Clean the World Foundation. "We are excited to see their findings and the solutions to local challenges that arise from their work."
For more information on The Drop by Drop Project, please visit: http://cleantheworldfoundation.org/dropbydrop.
About Clean the World
Clean the World Foundation is an international development and global health nonprofit operating hygiene-focused emergency relief initiatives, and WASH (water, sanitation, and hygiene) education programs, targeting vulnerable communities in the United States and around the world. Clean the World Foundation is the 501(c)(3) nonprofit sector of Clean the World's social enterprise responsible for all soap and hygiene kit distribution both domestically and globally as part of many of its comprehensive WASH programs. Clean the World Foundation engages volunteers, donors, and other outcome-focused organizations around the world to provide hygiene supplies and education curriculum to support its global health programs. Since 2009, Clean the World Foundation has served over 15 million individuals through its global WASH programs. A copy of the official registration and financial information for Clean the World Foundation may be obtained from the Division of Consumer Services by visiting https://www.fdacs.gov/ConsumerServices. For more information, visit us online: https://www.cleantheworldfoundation.org.
About Sands (NYSE: LVS)
Las Vegas Sands is the world's preeminent developer and operator of world-class Integrated Resorts. We deliver unrivaled economic benefits to the communities in which we operate. Sands created the meetings, incentives, convention and exhibition (MICE)-based Integrated Resort. Our industry-leading Integrated Resorts provide substantial contributions to our host communities including growth in leisure and business tourism, sustained job creation and ongoing financial opportunities for local small and medium-sized businesses. Our properties include The Venetian Resort and Sands Expo in Las Vegas, the iconic Marina Bay Sands in Singapore. Through majority ownership in Sands China Ltd., we have developed the largest portfolio of properties on the Cotai Strip in Macao, including The Venetian Macao, The Plaza and Four Seasons Hotel Macao, The Londoner Macao and The Parisian Macao, as well as the Sands Macao on the Macao Peninsula. Sands is dedicated to being a good corporate citizen, anchored by the core tenets of serving people, communities and planet. We deliver a great working environment for our team members worldwide, drive social impact through the Sands Cares community engagement and charitable giving program and lead in environmental performance through the award-winning Sands ECO360 global sustainability program. To learn more, please visit http://www.sands.com.
About Conservation International Singapore
Conservation International Singapore envisions a vibrant, resilient, and sustainable city for generations to come and aims to empower the community to protect nature through individual and collective action. Our country program is focused on community engagement and education, capacity building through student and professional internships, exploring and supporting innovative solutions for conservation science and research, and driving collaborations to support our institutional strategy across all sectors. Conservation International Singapore Conservation Trust (CSCT) is an organization approved by the Commissioner of Charities bearing Institution of a Public Character (IPC) status.
About University of Saint Joseph
The University of Saint Joseph is a multicultural Catholic University of Macao, China. Founded in 1996 and modeled after top universities in Europe, the University is now a hub for international collaboration and ranks top-50 in the world for Quality Education (Times Higher Education Impact Rankings 2021). Students at the University of Saint Joseph, across degree programs, are trained in ethical leadership, environmental stewardship, and creative problem-solving. Through the University's Institute of Science and Environment, local ecosystems are studied in a global context leading to research, public education, policy consultation, and cross-disciplinary partnerships that contribute to the sustainable development of Macao and the surrounding region.