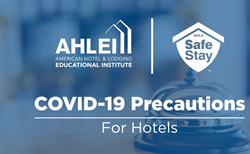 "The Safe Stay initiative is a comprehensive collection of resources, best practices, and protocols developed by leaders from various aspects of the hotel industry. This is a big win for hotels and takes the guesswork out of how to properly re-open and what expectations to provide to guests."
ORLANDO, Fla. (PRWEB) July 14, 2020
Clean the World, a global leader in water, sanitation, hygiene, and sustainability, is endorsing the American Hotel & Lodging Association's new Safe Stay initiative. The Safe Stay initiative will seek to change hotel industry norms, behaviors, and standards to ensure both hotel guests and employees are confident in the cleanliness and safety of hotels as travel resumes. It includes checklists for enhanced cleaning practices workplace protocols and employee training to meet the new health and safety challenges and more.
"The Safe Stay initiative is a comprehensive collection of resources, best practices, and protocols developed by leaders from various aspects of the hotel industry. This is a big win for hotels and takes the guesswork out of how to properly re-open and what expectations to provide to guests," says Shawn Seipler, Founder, and CEO, Clean the World.
AHLA's initiative is focused on enhanced hotel cleaning practices, social interactions, and workplace protocols to meet the new health and safety challenges and expectations presented by COVID-19. The guidelines were created by an Advisory Council comprised of leaders from all segments of the hotel industry in accordance with CDC best practices. Safe Stay is endorsed by all major U.S. hotel brands, associations in all 50 states, and Canada and is quickly becoming the industry's go-to guidelines as hotels look to re-open.
"Every hotel guest and employee should know that their health and safety are our top priority," said Chip Rogers, president, and CEO of AHLA. "Safe Stay represents a new level of focus for an industry already built on cleanliness. Hotels have always had rigorous standards for cleaning and safety. With Safe Stay, we are enhancing these standards to help create peace of mind. As travel resumes, hotels are ready to safely welcome back the traveling public."
For more information, please visit: https://www.ahla.com/safestay
About Clean the World
Clean the World is a social enterprise dedicated to WASH (water, sanitization, and hygiene) and sustainability. It operates soap recycling centers and offices in Orlando, Montreal, Las Vegas, Hong Kong, Netherlands, Washington DC, and Punta Cana and leads a "Global Hygiene Revolution" to distribute recycled soap and hygiene products from more than 8,000 hotel, resort, and cruise partners. Clean the World's foundation provides WASH (water, sanitization, and hygiene) programming to benefit global communities with high pre-adolescent death rates due to acute respiratory infection (pneumonia) and diarrheal diseases (cholera) – which are two of the top killers of children under the age of five. Since 2009, the foundation has served over 10 million individuals and distributed 56 million bars of soap and 5 million hygiene kits in 127 countries. For more information on how you can participate in Clean the World's world-renowned recycling program, please visit https://cleantheworld.org/get-involved/hotel-recycling-program/
About AHLA
The American Hotel & Lodging Association (AHLA) is the sole national association representing all segments of the U.S. lodging industry and contributes nearly $660 billion to U.S. GDP. Headquartered in Washington, D.C., AHLA focuses on strategic advocacy, communications support, and workforce development programs to move the industry forward. Every day, America's hotels make dreams come true, not just for our guests, but also for the 8.3 million people whose jobs we support—more than 1 in every 25 American jobs. Learn more at http://www.ahla.com.
MEDIA CONTACTS:
Sandie Beauchamp
Clean the World
info@cleantheworld.org
407-574-8353
Maura Morton
AHLA
mmorton@ahla.com
202-381-8644