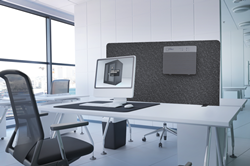 "The air we breathe is also a shared resource, so invest in air-cleaning systems to protect collaborative environments. Consider installing state-of-the-art air purification and sanitization systems."- Gensler Design Group
ORANGE, Calif. (PRWEB) July 29, 2020
Zonez, a division of Allied Modular that has +30 years of experience, is announcing the launch of a one of a kind, patent pending solution with its new Clean Zonez Panels. The Clean Zonez Panels will enable employees to return to a safe working environment.
Now, more than ever, organizations need solutions that will effectively increase the safety of the workplace. Clean Zonez Panels create a physical barrier to separate workers while cleaning the air in each, individual workspace.
Experts in facility management, real estate and workplace design have all highlighted that providing physical barriers or blocking, as well as improved air filtration are necessary components in safely bringing employees back to work. Gensler Design Group stated in a recent webinar, "The air we breathe is also a shared resource, so invest in air-cleaning systems to protect collaborative environments. Consider installing state-of-the-art air purification and sanitization systems."
How it works:
The intake fans pull air into six layers of air filtration including HEPA filtration and UV-C sterilization. Both HEPA and UV-C effectively inactivate and remove allergens, harmful bacteria, and viruses.
Sande Golgart, President of Zonez, says, "It is important to treat the air where it is exhaled, coughed or sneezed into the shared air in the workplace." Along with the air filtration, the panels act as a physical barrier between coworkers, minimizing any direct contact. The rPET panels create a more desirable workplace by absorbing noise and reducing distractions. These panels can be adjusted to fit the needs of any desk, in any office space. The soft touch control panel allows users to control fan speed, filtration settings, sleep, and power modes. While the open office plan may remain, Zonez is committed to creating solutions that will allow employees to return to a comfortable and safe working environment.
Golgart also noted, "Many companies have already put panels in place as blocking mechanisms and they are quickly realizing this is not sufficient in creating a safe work environment. As a result, we created a solution that can also attach or hang from panels or systems furniture that companies may have already purchased."
Zonez currently operates out of three facilities across the country.
For interview requests please contact sales@zonez.com
For more about the innovative Clean Zonez solutions or to receive a spec sheet, click here: https://cleanzonez.com/
For a formal quote, please visit https://zonez.com/clean-zonez/