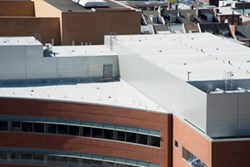 [Clear-Shield Rx] coating can significantly reduce surface biological growth, potentially improving the quality of air being drawn into facilities by reducing rooftop contamination.
Cleveland, Ohio (PRWEB) September 07, 2013
Microorganisms on a rooftop can cause many problems, contaminating indoor air quality and causing foul odors. They can also discolor, corrode, and shorten the service life of a roof. Garland's innovative Clear-Shield Rx™ technology is a clear-acrylic, non-toxic coating designed to provide at least twelve months of antimicrobial protection. It resists bacterial and fungal growth on the applied surface, reducing the rate at which the surface will discolor or deteriorate, as well as decreasing the quantity of roof top contaminants entering air intakes. Its ability to improve indoor air quality makes Clear-Shield Rx coating an ideal solution for healthcare, schools, and other environments where occupant comfort is paramount.
Clear-Shield Rx coating provides a transparent and durable antimicrobial film that can be applied to various roof systems, including gravel-surfaced modified bitumen, smooth-surfaced modified bitumen, and single ply roofing. Its weatherable acrylic resin base increases the service life of the applied surface. Once applied, the bonded antimicrobial film is non-leaching, nonvolatile, odorless and colorless, and produces virtually no chemical vapors. It is safe for use around people, animals, and plants and can be easily applied with rollers or a pump spray.
According to Joe Mellott, Garland's director of business development, "Clear-Shield Rx is a robust exterior-grade emulsion polymer. The product is designed to adhere to a multitude of roofing surfaces and finishes. Its water-based, low-odor formulation contains only trace amounts of VOC, so there aren't any harsh odors to disrupt building occupants during application. In addition to helping preserve rooftop appearance and durability, our laboratory research has shown this coating can significantly reduce surface biological growth, potentially improving the quality of air being drawn into facilities by reducing rooftop contamination."
Clear-Shield Rx coating can be used on most non-metal rooftops that are not subject to ponding conditions. Garland makes no claim, nor should any be inferred, that this product is particularly intended to neutralize or control microorganisms directly or indirectly infectious or pathogenic to humans or animals. Its protective properties are designed specifically to reduce the types of bacterial growth most likely to discolor and deteriorate rooftops made of organic materials, thereby improving interior air quality in relation to those types of bacteria.
The Garland Company, Inc. is one of the worldwide leaders of quality, high-performance roofing and building maintenance solutions for the commercial, industrial and institutional markets. For over 100 years, Garland has continually developed unique product and service offerings that have raised the bar of performance while exceeding the individual needs of customers throughout the world. Today, our network of over 200 local building envelope professionals is ideally positioned throughout the United States, Canada and the United Kingdom to provide quality roofing solutions for single and multi-property facilities. The Garland Company Inc., headquartered in Cleveland, Ohio, is an ISO 9001:2008 certified company. More detailed information regarding the specific properties of this unique rooftop coating are available on the Garland Web site (http://www.garlandco.com) or by calling 1.800.321.9336.