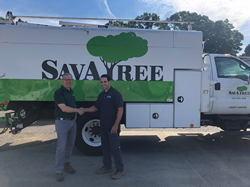 SavATree shares many of our values, such as science-backed solutions and excellent customer care.
BEDFORD, N.Y. (PRWEB) July 11, 2019
SavATree, the industry leader in professional tree, shrub, and lawn care, has announced the acquisition of Clear Cut Tree and Lawn Care of Monroe, Connecticut.
"Clear Cut Tree has been an institution in southwestern Connecticut," said Daniel van Starrenburg, CEO of SavATree. "We're honored that that they have decided to partner with SavATree to expand their offerings. Their knowledgeable team will be a great asset going forward as we honor our mutual commitment to high quality and environmentally sensible care."
Clear Cut Tree was founded in 2007 and has offered full service tree care to the region ever since. Dan and Meghan Riccio, owners of Clear Cut Tree, will remain to ensure a seamless transition. Arborist Mike Frangione and Clear Cut's team of specialists will be staying on to serve the community. Clients will now have access to an enhanced range of professional tree, shrub, and lawn care services including a choice of organic treatment options.
"SavATree shares many of our values, such as science-backed solutions and excellent customer care," said Meghan and Dan Riccio. "Our clients are in good hands."