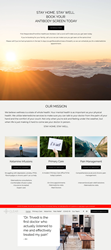 CLEAR Wellness Group can supply production crews with COVID-19 tests for all crew members, and we can come up with specific plans to meet each production's needs so filming can go on without a hitch. says, Dr. Manan Trivedi
CHICAGO (PRWEB) April 21, 2021
Achieving overall wellness and whole health are top priorities at CLEAR Wellness Group in Chicago, Illinois. CLEAR Wellness Group is the premier clinic for COVID-19 testing, with 3 convenient locations in the Chicago area. The entertainment industry (Film/TV/Commercials) has been one of the most heavily impacted by the COVID-19 pandemic, especially when it comes to production. Prerequisite travel, close quarters and shared objects make mainstream preventive measures, such as social distancing and masks, nearly impossible to comply with. Crew, talent and audiences are uncertain about the relative safety of gathering at highly-trafficked, condensed spaces such as film, television and commercial sets. With COVID-19 testing services from CLEAR Wellness Group, film crews in the Chicago area can confidently return to a safer production with a flexible program designed to address specific risks, budgets and schedules. CLEAR Wellness Group offers several testing routes, depending on the needs of the production. The program provides various options, including saliva testing to help ensure crews have access to testing before returning to work, PCR-based testing, which allows patients to self-administer with video visits with a provider, and access to on-site large-scale testing on set. CLEAR Wellness Group offers the ability to quickly deploy to any location in the Chicago area and also provides individual concierge services.
"CLEAR Wellness Group can supply production crews with COVID-19 tests for all crew members, and we can come up with specific plans to meet each production's needs so filming can go on without a hitch." says Dr. Manan Trivedi.
More about CLEAR Wellness Group:
Husband and wife team, Dr. Manan Trivedi and Dr. Rinku Shah, lead the CLEAR Wellness Group. These experienced doctors embrace the focus on whole health for patients, believing that optimum wellness requires treating the root cause of issues, not just the symptoms. The clinic offers a wide spectrum of interventional medicine, preventive care, mental health, sports medicine and chronic pain therapies to help patients live healthier and better-quality lives. CLEAR Wellness Group has three convenient clinics in the Chicago area at the following locations, South Loop - 1605 S. Michigan Avenue, West Loop - 114 S. Racine Ave. #100 and at 129 S. Roselle Rd, Suite #102 in Schaumburg, IL.
For more information about the COVID-19 testing for TV/FILM production crews or other services offered at CLEAR Wellness Group, visit http://www.clearwellnessgroup.com or call (312) 535-5770.