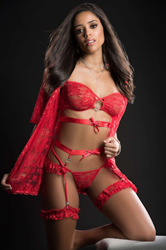 "For Everlasting Adult Pleasure, this ClearAngel investment reflects our mission of supporting the small business owner in their efforts to change the standard in their industry." - Andrew D'Souza, CEO and co-founder, Clearco
TORONTO (PRWEB) November 23, 2021
Clearco, the world's largest e-commerce investor revolutionizing the way founders grow their businesses, today announced that its industry-leading ClearAngel program is funding Everlasting Adult Pleasure, an adult toy brand retailer that helps inspire people to live more fun, creative and happy lives. ClearAngel gives early-stage companies access to revenue share capital, data-driven advice, and an extensive network of apps, agencies, and investors powered by Clearco.
Founded in 2020, Everlasting Adult Pleasure focuses on top-tier, personalized customer service. The company provides lifetime warranties on all items, and founder, Christopher Davis, personally contacts customers regarding product needs. Their service has successfully made a mark on their clientele, but they've yet to expand operations and resources. ClearAngel will enable them to grow their network to do so.
ClearAngel is among just a few equity-free, flexible capital options for early-stage founders who lack the network to raise an angel round or join exclusive accelerators. Since its February 2021 launch, the program has already funded over 400 companies.
"We're proud to fund Everlasting Adult Pleasure in its mission to make adult pleasure about the customer instead of the sale," said Andrew D'Souza, CEO and co-founder, Clearco. "For Everlasting Adult Pleasure, this ClearAngel investment reflects our mission of supporting the small business owner in their efforts to change the standard in their industry."
In addition to $10,000 of flexible capital, Everlasting Adult Pleasure will also get access to a network of more than 500 investors, growth teams, agencies, apps, lawyers, and buyers; and data-driven advice designed to help scale and hit new revenue milestones. Now that they are backed by ClearAngel, the company is excited to maximize on the network of businesses and experts to learn and continue to better service, operations, and sales to hit their first $100,000 in revenue.
"We will use Clearco's capital to continue to create a memorable experience for our current and future customers. We will also invest in new business techniques that will help us grow," said Christopher Davis, founder, Everlasting Adult Pleasure. "Our goal is to share the latest pleasurable adult sex toys that inspire our customers to live a more fun, creative, and happy life."
Learn more about Everlasting Adult Pleasure and experience exceptional customer service for yourself.
ClearAngel is currently onboarding E-commerce and product companies. The program has limited spots available for SaaS, Apps, marketplace and stealth companies. To learn more about applying, visit angel.clearbanc.com.
About Clearco:
Co-founded as Clearbanc in 2015 by Michele Romanow from Canada's Shark Tank (Dragons' Den), Andrew D'Souza, Ivan Gritsiniak, Charlie Feng, and Tanay Delima, Clearco offers the most founder-friendly capital solutions for e-commerce, mobile apps, and SaaS founders as well as a full suite of products and access to a powerful global network, insights and data, and recommendations. Clearco has invested over $2 Billion in over 4,500 companies to date, including Leesa Sleep, fashion-rental service Le Tote, home goods company Public Goods, shirtmaker UNTUCKit, online speech therapy practice Expressible, and digital real estate marketplace SetSchedule. For more information visit clear.co and @getClearco.