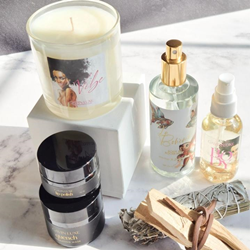 "We're proud to fund Gavin Luxe in its mission to normalize luxury and help women meet their own needs," said Andrew D'Souza, CEO and co-founder, Clearco. "This latest investment reflects ClearAngel's commitment to democratizing capital for women-owned brands."
TORONTO (PRWEB) November 10, 2021
Clearco, the world's largest e-commerce investor and the company revolutionizing the way founders grow their businesses, today announced that its ClearAngel program is funding Gavin Luxe, a women-centered fragrance brand aligning impeccable design, sensuous aromatics, and self-care experience. The ClearAngel program provides early-stage founders with access to revenue share capital, data-driven advice, and Clearco's extensive network of apps, agencies, and investors.
Based in San Diego, California, Gavin Luxe is a modern interpretation of vintage craftsmanship and was established to reflect the true beauty of fragrance. The brand's focus is to share the benefits of sensual aromatherapy through a range of the finest oils, candles, and other home and body fragrances. As an enthusiastic practitioner of aromatherapy, founder My McCarthy understands the benefits that fragrance brings when blended correctly. Gavin Luxe is sold online and via exclusive retail outlets worldwide. The brand launched a new Dusk 2 Dawn collection in September and plans to expand its skincare collection too.
"We're proud to fund Gavin Luxe in its mission to normalize luxury and help women meet their own needs," said Andrew D'Souza, CEO and co-founder, Clearco. "This latest investment reflects ClearAngel's commitment to democratizing capital for women-owned brands."
ClearAngel is one of a few equity-free, flexible capital options for early-stage founders who don't have the network to raise an angel round or join exclusive accelerators. The program has already funded over 350 companies since its February 2021 launch.
"I founded Gavin Luxe based on my passions around impeccable design, sensuous aromatics, and self-care. I'm delighted that ClearAngel saw the potential in our business," said My McCarthy, founder, Gavin Luxe. "With ClearAngel's support, we can continue to expand, invest in inventory and marketing, launch new products, double our direct to consumer efforts, and provide rich, luxuriously-scented products women love."
In addition to $10,000 of flexible capital, Gavin Luxe will also get access to a network of over 500 investors, growth teams, agencies, apps, lawyers, and buyers; and data-driven advice designed to help scale and hit new revenue milestones.
To learn more about Gavin Luxe, visit gavinluxe.com.
ClearAngel is currently onboarding E-commerce and product companies, and has limited spots available for SaaS, Apps, marketplace and stealth companies. To learn more about applying, visit angel.clearbanc.com.
About Clearco:
Co-founded as Clearbanc in 2015 by Michele Romanow from Canada's Shark Tank (Dragons' Den), Andrew D'Souza, Ivan Gritsiniak, Charlie Feng, and Tanay Delima, Clearco offers the most founder-friendly capital solutions for e-commerce, mobile apps, and SaaS founders as well as a full suite of products and access to a powerful global network, insights and data, and recommendations. Clearco has invested over $2 Billion in over 4,500 companies to date, including Leesa Sleep, fashion-rental service Le Tote, home goods company Public Goods, shirtmaker UNTUCKit, online speech therapy practice Expressable, and digital real estate marketplace SetSchedule. For more information visit clear.co and @getClearco.