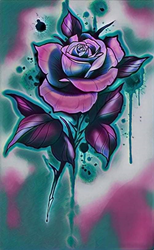 "Investing in RR Customs speaks to how a simple idea can evolve into a successful business with the determination of a true entrepreneur." - Andrew D'Souza, CEO and co-founder, Clearco
TORONTO (PRWEB) November 09, 2021
Clearco, the world's largest e-commerce investor and the company revolutionizing the way founders grow their businesses, today announced that its ClearAngel program is funding RR Customs Limited, a unique diamond painting provider. ClearAngel gives early-stage founders access to revenue share capital, data-driven advice, and Clearco's extensive network of apps, agencies, and investors.
Founded in February 2020, RR Customs is the only American diamond painting brand moving toward a brick and mortar location. Rachel Ross started the company by chance after going through debilitating heart complications. A loved one suggested she try diamond painting to relieve stress, but she soon found that there was a demand for the glamorous craft. The company has had so much success that they are selling wholesale and are now in need of a physical location, but until now, the resources weren't available. ClearAngel will enable them to dive deeper into wholesale and start the journey toward a brick and mortar location.
ClearAngel is one of a few equity-free, flexible capital options for early-stage founders who do not have the network to raise an angel round or join exclusive accelerators. The program has already funded over 350 companies since its February 2021 launch.
"We're happy to fund RR Customs Limited in its efforts to normalize a unique creative sector," said Andrew D'Souza, CEO and co-founder, Clearco. "Investing in RR Customs speaks to how a simple idea can evolve into a successful business with the determination of a true entrepreneur."
In addition to $10,000 of flexible capital, RR Customs will also get access to a network of more than 500 investors, growth teams, agencies, apps, lawyers, and buyers; and data-driven advice designed to help scale and hit new revenue milestones. With ClearAngel's backing, RR Customs will be able to invest in more wholesale avenues and move forward with pursuing a physical location. The funding also comes just in time for several product releases and expansion after buying out another diamond printing Distributor.
"ClearAngel's funding will help me put my print on changing the crafts industry," said Rachel Ross, Founder, RR Customs. "I want RR Customs to become the go-to for diamond painting supplies."
To learn more about RR Customs and experience diamond painting for yourself, visit diamondcrafting.com.
ClearAngel is currently onboarding E-commerce and product companies, and has limited spots available for SaaS, Apps, marketplace and stealth companies. To learn more about applying, visit angel.clearbanc.com.
About Clearco:
Co-founded as Clearbanc in 2015 by Michele Romanow from Canada's Shark Tank (Dragons' Den), Andrew D'Souza, Ivan Gritsiniak, Charlie Feng, and Tanay Delima, Clearco offers the most founder-friendly capital solutions for e-commerce, mobile apps, and SaaS founders as well as a full suite of products and access to a powerful global network, insights and data, and recommendations. Clearco has invested over $2 Billion in over 4,500 companies to date, including Leesa Sleep, fashion-rental service Le Tote, home goods company Public Goods, shirtmaker UNTUCKit, online speech therapy practice Expressible, and digital real estate marketplace SetSchedule. For more information visit clear.co and @getClearco.