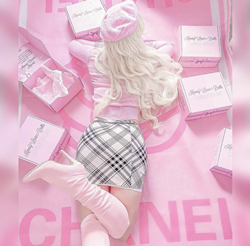 "Investing in Kimmy Luxe Dolls reflects our mission of providing the resources entrepreneurs need to make a mark in their industry and fulfill their potential." - Andrew D'Souza, CEO and co-founder, Clearco
TORONTO (PRWEB) November 17, 2021
Clearco, the world's largest e-commerce investor and the company revolutionizing the way founders grow their businesses, today announced that its ClearAngel program is funding Kimmy Luxe Dolls, a personal shopping service and boutique founded on the idea that those with the fearless, care-free, "blonde" mindset have more fun. ClearAngel gives early-stage founders access to revenue share capital, data-driven advice, and Clearco's extensive network of apps, agencies, and investors.
Founded in 2018, Kimmy Luxe Dolls uniquely focuses on lush, pink, ready-to-buy fashions as well as personal shopping. As a mom and divorcee, founder and CEO, Kimmy Hayes knows first-hand that when you look better you feel better and are more empowered to live your best life. The service has been wildly successful in building an audience around its personalized services. With ClearAngel's support, Kimmy is ready to grow the business further - especially in inventory and employees.
ClearAngel is one of a few equity-free, flexible capital options for early-stage founders who don't have the network to raise an angel round or join exclusive accelerators. The program has already funded over 350 companies since its February 2021 launch.
"We're excited to fund Kimmy Luxe Dolls in its mission to help women conquer the day with boosted confidence and esteem," said Andrew D'Souza, CEO and co-founder, Clearco. "Investing in Kimmy Luxe Dolls also reflects our mission of providing the resources entrepreneurs need to make a mark in their industry and fulfill their potential."
In addition to $10,000 of flexible capital, Kimmy Luxe Dolls will also get access to a network of more than 500 investors, growth teams, agencies, apps, lawyers, and buyers; and data-driven advice designed to help scale and hit new revenue milestones. Now that they're backed by Clear Angel, they will be able to hire and expand new offerings like their Girly Boxes, in which they send customers mystery items based on their taste.
"Now that I am backed by Clear Angel, I am now able to hire helpers to help pack and ship the Girly Boxes. I was not able to do this before, as I was a one-woman show," said Kimmy Hayes, Kimmy Luxe Dolls. "Barbies can be smart, without forfeiting fantasy! Thanks to Clear Angel, we can continue to teach them how."
To learn more about Kimmy Luxe Dolls and experience luxury personal shopping for yourself, visit kimmyluxedolls.com.
ClearAngel is currently onboarding E-commerce and product companies, and has limited spots available for SaaS, Apps, marketplace and stealth companies. To learn more about applying, visit angel.clearbanc.com.
About Clearco:
Co-founded as Clearbanc in 2015 by Michele Romanow from Canada's Shark Tank (Dragons' Den), Andrew D'Souza, Ivan Gritsiniak, Charlie Feng, and Tanay Delima, Clearco offers the most founder-friendly capital solutions for e-commerce, mobile apps, and SaaS founders as well as a full suite of products and access to a powerful global network, insights and data, and recommendations. Clearco has invested over $2 Billion in over 4,500 companies to date, including Leesa Sleep, fashion-rental service Le Tote, home goods company Public Goods, shirtmaker UNTUCKit, online speech therapy practice Expressible, and digital real estate marketplace SetSchedule. For more information visit clear.co and @getClearco.