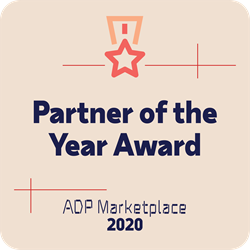 We are honored to receive this prestigious recognition and continue ClearCompany's leadership in developing and offering innovative talent solutions
BOSTON (PRWEB) October 26, 2020
ClearCompany® is proud to announce it has been awarded the ADP Marketplace Partner of the Year for 2020. The company is honored to be recognized as the top partner among a field of dynamic integrated partner software solutions that ADP® offers its customers on its digital storefront. This is ClearCompany's second Marketplace Partner award, previously distinguished as the Sales Choice winner at the 2019 ADP Marketplace Summit.
Since ClearCompany's introduction to ADP Marketplace in 2017, they have helped to enhance the Human Capital Management (HCM) ecosystem by providing ADP clients with more choice and flexibility. This award recognizes the collaborative efforts between the two organizations in the continued pursuit of that goal. ClearCompany and ADP create complementary products that provide compelling HR solutions to organizations that empower talent to reach their full potential and executives to meet their business goals.
"We are honored to receive this prestigious recognition and continue ClearCompany's leadership in developing and offering innovative talent solutions," said Brian Campbell, chief revenue officer at ClearCompany. "We will continue to collaborate with ADP to provide its salesforce, and the marketplace, with powerful and unique software. We deeply value the relationship and thank ADP for continually being a great partner."
ADP Marketplace, a digital HR storefront, is designed to help employers create an HR ecosystem with choice and flexibility to choose the best HR solutions for their business, based on what fits their needs. ClearCompany offers Advanced Talent solutions for Recruiting, Onboarding, Performance Management, People Analytics, and Workforce Planning within the Marketplace, connected and seamlessly integrated to the ADP platform.
ClearCompany always goes above and beyond to ensure that ADP clients and DMs are in good hands, said Craig Cohen, division vice president and general manager ADP Marketplace. "Their team works diligently to provide a fantastic service, from integration to marketing to sales. They're a pleasure to work with."
About ClearCompany
For 15 years, ClearCompany has helped companies achieve their missions with software and best practices to plan for, find, and keep hundreds of thousands of A Players across business cycles. We designed and built a unified platform to deliver exceptional headcount planning capabilities, unparalleled hiring and onboarding experiences, company-wide goal alignment, and performance management that drives companies forward. Learn more at ClearCompany.com.
About ADP Marketplace
ADP Marketplace is a digital storefront designed to help employers create HR ecosystems for their companies using solutions from ADP and leading third-party partners, enabling companies of all sizes to extend the value of their workforce solutions seamlessly across their entire organization via a secure, single-sign-on process. Learn more on ADP Marketplace.