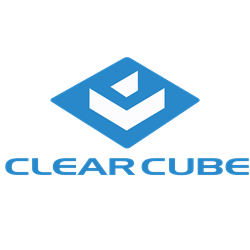 The knowledge and customer feedback we gained over the years has enabled us to expand remote work environments during these difficult times, said Doug Layne, VP of Global Sales
CEDAR PARK, Texas (PRWEB) April 09, 2020
ClearCube® Technology, Inc., a leading virtualization company to clear the end user's cube of clutter, noise, and heat with custom designed and engineered solutions, today announced the launch of three new Thin Clients for accelerating work-from-home initiatives.
Recognizing how COVID-19 has impacted the way IT operates, ClearCube fulfills customer demands to support remote work on a grand scale.
"The knowledge and customer feedback we gained over the years has enabled us to expand remote work environments during these difficult times," said Doug Layne, VP of Global Sales. "Our new Thin Clients with easy-to-use software, advanced configurations, and secure cloud computing connectivity allows IT managers to provide the work-from-home capabilities users need while meeting the organization's security, productivity, and reliability expectations" he added.
The addition of the CD8804, CD8832, and CD8840 Thin Clients reinforces ClearCube's ability to provide solutions that address unique challenges and help organizations digitally transform their workplace while maintaining business continuity. Leveraging Teradici® PCoIP®, VMware®, Citrix®, Amazon® AWS, or Microsoft® WVD remote technologies with ClearCube Thin Clients enable organizations to provide the remote work solution employees needs to access to their virtual desktops, workstations, Blade PC's or any other remotely delivered environment, from home or anywhere outside the corporate premises.
These all-new Thin Clients featuring multiple I/O ports, OS, disk and display options, fulfill the deployment requirements of every scenario needed today. They enable organizations to future proof their hardware investment by offering the end-user the flexibility to access their data whenever, wherever and however they need.
We are committed to being responsive to the needs of our customers as the situation evolves. If you're looking for solutions to address the challenges associated with facilitating data access to mobile or remote employees or for more information, visit http://www.clearcube.com or email sales@clearcube.com.
Download CD8804, CD8832, and CD8840 Thin Client Datasheets
ClearCube Technology on Social Media:
Twitter: https://twitter.com/clearcubetech
Facebook: http://www.facebook.com/clearcubetech/
LinkedIn: http://www.linkedin.com/company/clearcube-technology/
About ClearCube Technology
As a recognized technology leader in centralized computing and desktop virtualization markets since 1997, ClearCube Technology is future-proofing IT in the workplace by engineering and manufacturing custom remote solutions. The widespread adoption of a ClearCube IT model at thousands of federal and commercial locations is based on our ability to meet cost savings and security requirements for use cases involving centralization and virtualization initiatives. Recognizing commercial organizations also continue to have greater needs for data privacy, encryption and seamless multi-platform access, the ClearCube strategy moves IT beyond an enclosed workspace to give businesses the freedom to have scalable, secure, flexible functionality anywhere. As an ISO Certified American company, ClearCube also manufactures specialized Zero and Thin Clients and High-Performance Workstations.