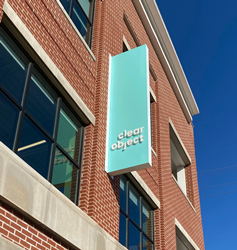 We really try to meet customers wherever they are today and look for opportunities to use the data they already have to solve problems quickly
INDIANAPOLIS (PRWEB) August 17, 2020
Digital transformation can take many forms, and it can often be a challenging journey for companies to navigate. Indiana based ClearObject believes that a product approach is key to unlocking the potential of data for its customers around the world. This is reflected in the company's recently established Digital Products business unit. An organization with a focus on building customized products to unlock the value of data for customers who are looking to initiate or accelerate their digital transformation.
"Many of our customers are companies who are already collecting a mountain of data, and know instinctively that there are opportunities to use that data to differentiate themselves in the marketplace. Often the challenge is knowing where to begin," explained Ben Frame, Vice President and General Manager of Digital Products for ClearObject.
"We really try to meet customers wherever they are today and look for opportunities to use the data they already have to solve problems quickly. We focus on creating immediate value which we can build upon to solve bigger problems that really move the needle for the business."
A product centric approach is underpinned by ClearObject's Product Team-as-a-Service (PTaaS) engagement framework. PTaaS gives customers access to a full product team with all of the skills required to build a digital product from the ground up, including user interface design, development, data engineering, machine learning, and project management. PTaaS uses agile development methodology to deliver incremental wins quickly, scaling and evolving them over time.
ClearObject believes in taking a customer-led approach to designing, developing and deploying digital products. Continuous collaboration and agile product development through PTaaS allows ClearObject to build the right products, in the right way. Once a digital product has been created, ClearObject also offers services to provide ongoing development and managed services to operate and support production workloads for customers who need them.
About ClearObject
ClearObject is a leading IoT systems integrator and digital transformation company highly specialized in IoT Engineering, Analytics and Connected Product Development. As a certified Google Cloud Partner and IBM business partner, we're experts at developing and implementing targeted data analytics strategies based on your company's unique needs. Additionally, we can deploy, migrate and manage serverless cloud solutions, including AI tools and end-to-end machine learning models, so you're free to focus on what matters most: getting value from your data.