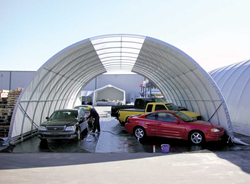 SOUTH WINDSOR, Conn. (PRWEB) January 23, 2019
ClearSpan is celebrating the new year with an extended sale on a special selection of buildings. Customers have the potential to save thousands of dollars on their purchase with discounts of up to 35%.
Customers must act fast if they want to take advantage of these incredible savings. The sale has already begun and only lasts through January 31st. Order with a ClearSpan Specialist by calling 1.866.643.1010, or view the full line of sale buildings on the company's partner website, FarmTek.com.
The sale extends to a number of different buildings in a variety of sizes, offering customers a wide selection to choose from. Included in the sale are the ClearSpan Freestanding Building, Storage Master SolarGuard, Storage Master Classic Plus Garage and the SolarGuard Oversized Garage. The most compact structure sits at 14' wide by 28' long, while customers in need of more space can choose from larger buildings up to 38' wide by 100' long.
With a large range of sizes, these buildings can fulfill both commercial and residential storage needs. They are the ideal storage solution for cars, boats, tractors, hay, grain, sand, salt and more. Customers can conveniently place structures on the surface of their choice with remarkably quick building timelines. Each structure also features a durable 12.5 oz., 24 mil fabric cover with maximum sunlight transmission to create a well-lit space during the day.
ClearSpan is the leading manufacturer of fabric buildings, providing storage solutions across many industries for nearly 40 years. Buildings are constructed with materials of the highest quality and built to last for years to come. ClearSpan stands by their products and provides exceptional customer service for customers.
To take advantage of these special offers, customers can call 1.866.643.1010 to order with a ClearSpan Specialist or order online at FarmTek.com.