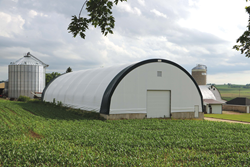 SOUTH WINDSOR, Conn. (PRWEB) December 20, 2018
ClearSpan Fabric Structures announced the unveiling of their Refer a Friend Program. The referral program offers customers an incentive to showcase their ClearSpan building and earn cash back in the process.
To participate in the Refer a Friend Program, anyone with a fully-constructed ClearSpan building is encouraged to invite friends and colleagues to see their building in person. This provides a great opportunity for potential clients to hear about the benefits of a fabric structure directly from customers with first-hand experience. Anyone who is considering purchasing their own fabric building will find it helpful to see a finished structure in use.
When the prospective client places an order for their own ClearSpan structure, the referring friend will then receive up to 1 percent of the order value in cash back, with a maximum payout of $2,500. New customers must place their order within 12 months of referral for their friend to receive the incentive.
ClearSpan is confident that everyone with building needs will receive beneficial information from its present customers. ClearSpan provides building solutions for countless industries, including athletics, agriculture, manufacturing, aviation, commercial storage and much more. ClearSpan buildings are beneficial for every industry and conveniently located across the country.
All truss buildings purchased from ClearSpan are accompanied by an industry-leading 20 year warranty on the fabric cover and a 50 year warranty on the frame. Structures are built to last with a triple-galvanized steel that is durable enough to withstand corrosive environments. The rip-stop fabric cover allows sunlight transmission to create a well-lit environment, which is an energy-efficient and economical feature that greatly reduces the need for supplemental lighting during the day.
For more information on ClearSpan, visit http://www.ClearSpan.com or call 1.866.643.1010 to speak with a ClearSpan Truss Arch specialist.