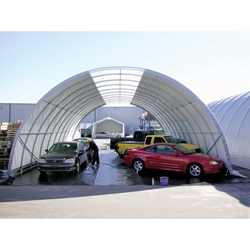 (PRWEB) August 30, 2018
ClearSpan Fabric Structures announced a huge savings opportunity on the company's non-truss fabric buildings. Starting today, customers can take advantage of free shipping on all of ClearSpan's non-truss structures, allowing them to potentially save thousands of dollars.
This sale comes just in time for business owners looking to plan for winter. These structures can protect equipment, vehicles, livestock, feed and much more from harsh winter weather or create a well-lit workspace with plenty of room for equipment and machinery.
For nearly 40 years ClearSpan has been supplying versatile building and storage solutions across many industries, including agriculture, construction, waste, municipal and much more. With custom designs and turnkey options, customers are able to get their ideal building solution when they need it most.
ClearSpan provides the premier fabric structure that allows ample sunlight to filter though, creating an interior that is well lit, but soft on the eyes. The natural lighting allows users to completely cut out artificial lighting, providing savings on a daily basis. This combined with superior natural ventilation and climate-sensitive covers that keep the buildings' interior cooler in the summer and warmer in the winter, enables the customers and their business to realize maximum profitability.
ClearSpan offers a one-stop shopping experience, so no matter the specifications, required accessories or tools, ClearSpan can make it happen. With in-house financing and installation services, getting a building has never been easier.
To take advantage of this sale, call 866.643.1010. For more information on ClearSpan's structures, visit http://www.ClearSpan.com