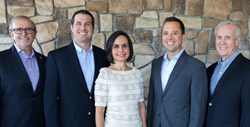 Clearwater, FL (PRWEB) July 31, 2018
Drs. Matthew Burton, Keith Kiskaddon, Nolan Allen, Maria Hernandez and James Hayslett of Clearwater Dental Associates are encouraging those seeking modern and comfortable dental crowns and bridges to schedule an appointment, with or without a referral. The TRIOS® 3Shape Intraoral Scanner replaces traditionally uncomfortable, messy impressions and gives the dental team a precise look for accurate and long-term results.
Patients with broken, damaged or missing teeth may benefit from a custom dental crown or bridge. Crafted using durable, lasting materials and color-matched to the patient's unique look, each restoration renews oral function while also creating a seamless smile. Before each crown or bridge can be created, though, an impression must be taken.
By using the award-winning TRIOS 3Shape Intraoral Scanner modality, Drs. Burton, Kiskaddon, Allen, Hernandez and Hayslett can ensure patients get the accurate impressions they need without discomfort. This can help many overcome their worries about going to a dentist in Clearwater, FL, for their general or cosmetic dental needs. For those without dental fear, this technology improves their experience with increased efficiency and comfort.
In addition to making the process faster, easier and more effective, this intraoral scanner can be helpful in making many types of preliminary diagnostic impressions, including those for orthodontics treatments and guided dental implant placement. As a result, the dentists can more efficiently work with patients to achieve their preferred outcomes.
Adults and families interested in receiving a dental crown or bridge without the hassle of messy impressions are urged to contact Clearwater Dental Associates at 727-797-8800 for advanced care in comfort. Those who are in need of a dentist in Clearwater, FL, for other general or cosmetic reasons are also invited to become patients of any of the doctors practicing at the state-of-the-art location.
About the Practice
Clearwater Dental Associates is a team of leading dentists serving patients in the Clearwater area for over 30 years. Drs. Matthew Burton, Keith Kiskaddon, Nolan Allen, Maria Hernandez and James Hayslett offer comprehensive services, allowing patients to receive all of their dental care at one, state-of-the-art facility. A 17-seat practice with over 20 team members, Clearwater Dental Associates provides leading care including dental implants, Invisalign®, sedation and general dental care. A patient-centered practice, each doctor and team member is dedicated to patient comfort and education. To learn more about Clearwater Dental Associates or to schedule a personalized appointment, call 727-797-8800 or visit http://www.cdadental.com.